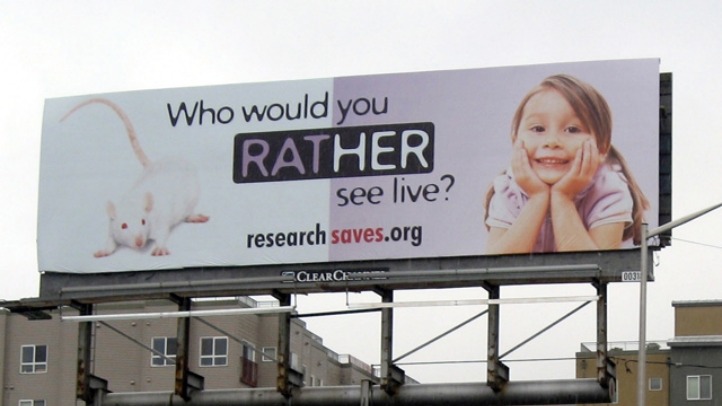 Controversial new billboards in Chicago's suburbs portray a little girl next to a rat with a message that asks passersby, "Who would you rather see live?"

The billboards went up in Palatine, Elk Grove Village, Northbrook, Wood Dale and Des Plaines as part of a five-city ad campaign in support of animal research to develop medications and cures for disease.

It's sponsored by the Foundation for Biomedical Research and the ad campaign website, researchsaves.org, which claims, "Animal research saves both human and animal lives. It's how cures happen. "

Frankie Trull, president of FBR, said Wednesday that the billboards confront an ethical dilemma society faces. "Would you rather do away with animal research or have the new medical cures, treatments and therapies for which so many people desperately wait?" he said in a statement.

Trull pointed to leukemia, diabetes, paralysis and autism as benefiting from animal research, particularly research on rodents.

PETA supporters have stated they are wholly against animal testing, saying it's unethical and the animals can feel the pain and fear that goes along with many times brutal testing.

Television and radio advertising is also planned as part of the RearchSaves campaign. Besides Chicago's suburbs, billboards appear in Baltimore, Los Angeles, Seattle and Portland.