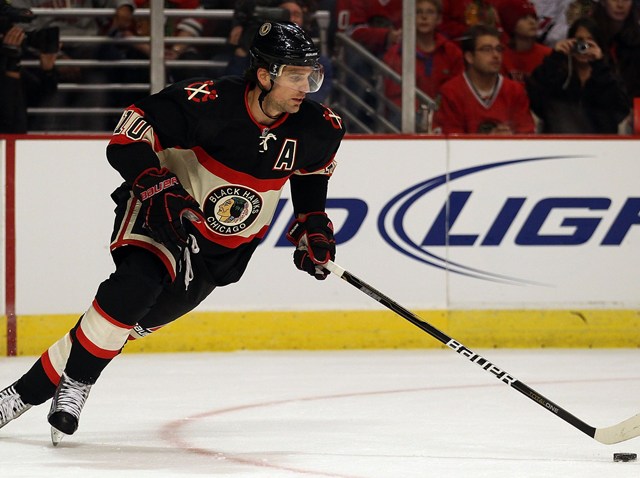 John Cusack told us the world ends in 2012. He stole it from the Mayans. And whatever Cusack and the Mayans agree on is gospel, right? Well, before we all fall into the Earth's core, there's a little matter of finishing out this hockey season.
The new year begins at home against the Edmonton Oilers, the first time these two will dance after that 9-2 affront to The Lord that took place the Saturday before Thanksgiving. The Hawks should need scant reminding what can happen if they don't take the Oil seriously.
You could understand why they may not. Since that game, the wheels have fallen off this oil tanker. They've lost seven of their last eight, as their simply woeful defense and suspect goaltending that was covered up by a hot start finally showed their pockmarked faces to the world. The Oilers barely have any NHL-quailty defense, and Nikolai Khabibulin was always going to trip trying to make up for it at some point.
They carry some threat with their kid line. Taylor Hall, Ryan Nugent-Hopkins, and Jordan Eberle are all at a point-per-game, and if they find an opposition without speed or any motivation they're capable of scoring enough goals themselves to make the Oilers pretty spiky. This will be Dave Bolland's assignment, and it's at least a challenge without the size that have given Bolland and his linemates fits all year. Still, with so much speed it's not a guarantee Bolland can keep them locked down.
For the Hawks, Steve Montador will miss out with an upper-body injury that's been re-aggravated at some point in the past week. Sami Lepisto will emerge from whatever crypt he's been locked in, but sadly only to partner John Scott. He'll probably wish he's back as a scratch. The one thing the Oilers can do is skate, so Lepisto's mobile feet will be useful. Scott's on the other hand? Hopefully they won't get him windburn in the seven minutes he sees.
When the Hawks care, they blow by Edmonton. They leave so much open ice and speed up the game, just to the Hawks liking. They don't hit much, they don't have much size, and there are nights when they don't physically engage at all. But the Oil have won three of the last six against the Hawks simply on nights when the Men of Four Feathers can't be bothered. Thanks to the last time, that shouldn't be a problem tonight.