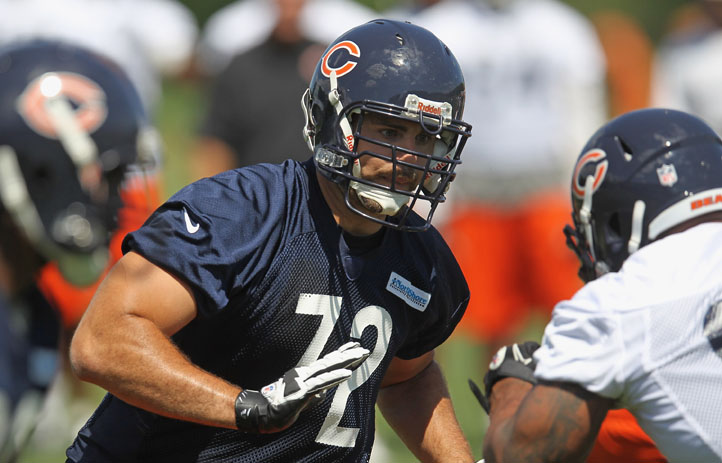 By all accounts demoted right tackle, Gabe Carimi, did a stellar job filling in at right guard Sunday against the Vikings.
Bears Offensive Coordinator Mike Tice likes his linemen big, but a 6'7" guard? Jay Cutler isn't concerned.
"I don't care if he's 6'10" if he does his job I'll find a way" Cutler said. "I mean maybe this is his position I don't know."
Carimi wasn't as enthusiastic about making the switch permanent.
"I'm just looking at stepping in wherever we can" Carimi acknowledged Wednesday.
The Bears are happy with how the former first round pick out of Wisconsin handled his demotion, while not happy, he was ready when called upon. Even if it meant playing a position he last played in two Senior Bowl practices.
"It didn't help at all" Carimi said. "I didn't have any schemes or anything really it was very basic, now we're doing NFL offenses."
Facing a Top-5 defense with Seattle this Sunday, the Bears will need all the help they can get on their makeshift offensive line.
Ten-time Pro Bowler and two-time All Pro Guard Andre Gurode was most recenlty released by Baltimore.
After knee surgery in June, Gurode has been keeping in shape the past month working out in Texas -- 8am to 12noon five days a week. "I'm very excited and looking forward to the opportunity" Gurode said, "if they told me to play fullback I'll play fullback too." At 33 years old, Gurode's experience will bring him up to speed with the Bears playbook quickly, even if there isn't much left in the tank. "As much as they need" Gurode said convincingly, "I got plenty left in the tank"