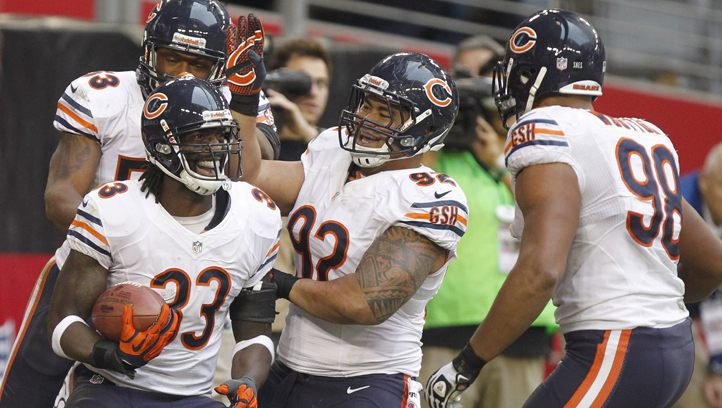 When the Bears coaches challenged the defense to take over Sunday's game against the Cardinals, the players rose to the occasion.

"We always accept the challenges," Bears defensive end Julius Peppers said after a 3-sack game. He now has 11.5 on the year.

At 9:01 into the first quarter the takeaways started when cornerback Zack Bowman found a Ryan Lindley fumble at the goalline, picked it up and scored. It was the first defensive touchdown for the Bears since November 4th.

"I ran around the corner and was like 'Ooh hey the ball!' and I jumped on it and I scored," Bowman explained. "It's Christmas time man, time of giving guys, c'mon c'mon let's be in the holiday spirit!"

The Cardinals were definitely in the giving mood during Sunday's game.

Charles Tillman intercepted Lindley in the third quarter for his third interception of the year, and he found the endzone for his third pick six as well.

"It doesn't get old and it's fun it's a lot of fun" Tillman said. "Merry christmas, kwannukah, I mean Kwanzaa, Hanukah, Kwanza, Shalom and all the other good stuff."

Adding to the holiday excitement, the Bears could get another Christmas present this week. Brian Urlacher tested out his hamstring at University of Phoenix field before the game.

"He's (Brian) feeling good about where he is," said Lovie Smith.