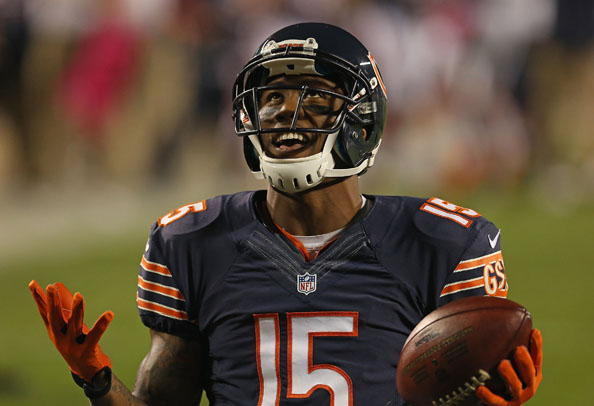 Brandon Marshall has tallied 577 yards receiving through his first six games as a Chicago Bear.
That's the most yards through six games for a Bears WR since at least 1960, and hugely successful -- worth celebrating, even. So why was he choked up and holding back tears Tuesday night?
Marshall hosted "Bowling for Borderline," a benefit for his charity "Project Borderline."
The Bears wide receiver, who owns a troubled past rife with violence, has been diagnosed with Borderline Personality disorder. The veteran receiver says the diagnosis has brought him clarity about his behavior and in recent years he's been working to change.
At the bowling alley in downtown Chicago was explaining how happy the community of Chicago and the Chicago Bears organization, as well as his teammates have made him by welcoming into their fold. With Jay Cutler, Brian Urlacher, Devin Hester and Israel Idonije in attendance, Marshall revealed how difficult it is to open up publicly about having a mental health condition - borderline personality disorder, a condition he was diagnosed with nearly two years ago and underwent intense psychotherapy to help control.
Having a mental health disorder carries a stigma, he says. A stigma fueled often by ignorance. People just don't understand mental health disorders, he says.
To give voice to what he calls ignorance about his disorder, Marshall played a videotape of a discussion on a sports talk show that made mental health professionals, supporters and others in the room drop their jaws in shock.
ESPN aired an "E60" story on Brandon Marshall's history of violence, his diagnosis of borderline personality disorder, and his transformation with the Bears. The story created reaction in social media, including ESPN's @RealSkipBayless who commented Marshall seemed "changed". Brandon Marshall himself tweeted back, "not changed, transformed".
This exchange created a stir the next morning October 3rd, on ESPN's "First Take."
The hosts debated whether or not Marshall was "transformed" by incorrectly calling his disorder "bipolar," then later "multiple personalitiy" both of which are incorrect. Stephen A. Smith admitted he didn't know about it and insisted he wouldn't disrespect Marshall. But the next comment may have done just that:
"Your argument was that you have multiple personalities," Smith said, incorrectly identifying the disorder from which Marshall suffers. "I like that as a self defense because I hate to believe that one person could be this bad."
Smith said that Marhsall has been involved in 24 off field incidents that mar his past, including the 2008 murder of his then Denver Broncos teammate Darrant Williams, in which police reports state Marshall was the intended target of a gunman. How can a mental health diagnosis erase the past?
"There's somebody that's dead" Smith shouted. "Essentially because of one of those personalities!"
Some people like ESPN's Smith think Marshall's condition is just an excuse to help explain away a troubled past.
Marshall is trying to erase the idea that he's using excuses with his charity "Project Borderline". He knows he can't change the past but he can help the future. Marshall also relies on other forces beyond his charity. He's enrolled in intense therapy and embraces a newfound Christianity he says has transformed him.
Bears linebacker Brian Urlacher said Marshall has been a "great teammate" and is actually one of the Bears leaders. Jay Cutler shakes his head when people ask if Marshall has changed.
When is it ok to start believing someone has moved forward in their life? Is rehabiliation real or will the past always be brought up?Maybe only time will tell.