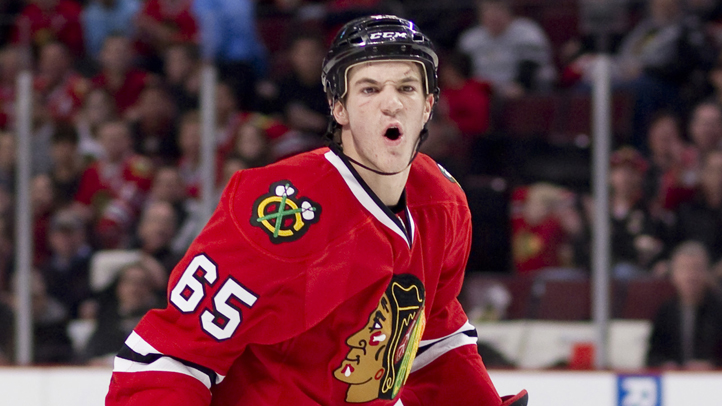 Forward Andrew Shaw will not be playing for the Chicago Blackhawks in Game 2 against the Minnesota Wild, coach Joel Quenneville announced before the game Sunday.
Quenneville wouldn't say who will replace Shaw in Sunday's game but added that Kris Versteeg is "likely" back in the lineup.
Andrew Shaw out for Game 2. Q said he'll travel to MIN and likely play in Game 3. Versteeg "likely" in, so he's in. #Blackhawks — Tracey Myers (@TramyersCSN) May 4, 2014
UPDATE 2:08pm Central: On the preliminary roster report, Quenneville had Jeremy Morin, not Versteeg, listed as active for the game. When the final roster was handed in, Versteeg was back in, but so was Morin. Shaw and Brandon Bollig are the scratches for the game.
Quenneville did say Shaw will make the trip to St. Paul for Game 3 and that he will likely be back in the lineup for that game.
Shaw's injury came Friday after Minnesota's Clayton Stoner nailed him with a high hit, sending Shaw's head snapping backward toward the glass. He was able to limp off the ice, but soon found himself heading to the dressing room, where he remained for the rest of the game.
There's a short list of players who would replace him in the lineup.
First and foremost on that list is Kris Versteeg, who has been a scratch in each of the Hawks' last two games. He was replaced by Joakim Nordstrom due to the Swede's versatility at center and wing, and even though he didn't play a lot, he didn't make any of the mistakes that one would think that a first-time playoff participant would make.
The other potential option would be to have Jeremy Morin, who also has never played in a playoff game, come back into the lineup. He looked great in the last few games that he played during the regular season, and his speed could counter the physical game of the Wild very well.
At any rate, neither of those players would end up filling in for Shaw's power play responsibilities. Morin is more of a speed guy who sticks to the wings, while Shaw camps out in front of the net on the Hawks' power play. Versteeg usually plays second line minutes, so while he could just bump up to the top line, it's more likely that he would stay where he is and fill the role as a facilitator for that group. Ben Smith took Shaw's place on the power play in Game 1, and either he or Bryan Bickell would take that spot over in Game 2.
The question then is this: which player will take over for Shaw in even strength situations if the forward can't play? Odds are that Quenneville was leaning toward taking Nordstrom out of the lineup anyway, so the most likely scenario would be that Versteeg would replace Shaw on the third line, and then it would be a battle between Morin and Nordstrom for the 12th forward spot.
Truthfully, Quenneville should put Morin in the lineup. Yes, Nordstrom's versatility is a great asset on the ice, but Morin's speed is something that the Hawks need a good dose of in this series. The Wild aren't a team that is just going to clog up the neutral zone and try to slow the game down. They can speed things up too, and the Hawks occasionally have a tough time adjusting to that. Morin would help them add a bit more flow to their offense, and even though he hasn't played on a big stage yet, his play at the end of the regular season makes him a worthy candidate of a lineup spot.