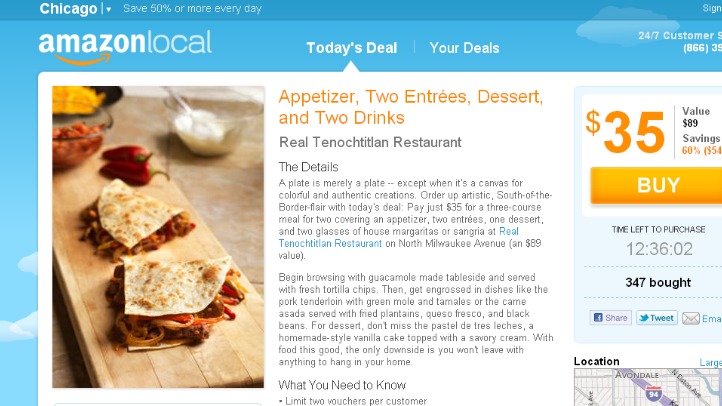 AmazonLocal has entered the daily deal scene in Chicago.

AmazonLocal went live here Thursday morning, offering daily deals by – gulp – LivingSocial.

While it may be seem to be an in-your-face challenge to Groupon, the site will soon offer local deals sourced by Amazon itself.
The first deal, 60 percent off food and drink at Real Tenochtitlan Restaurant, sounds much like any other, and the rest of the offers for restaurants, spas and events look familiar too. But AmazonLocal has this to offer: Customers who use their Amazon Chase Rewards Visa for an AmazonLocal purchase will get five points on the dollar, which can be redeemed for rewards or cash back.
It launched in June, and now has six markets to date: Seattle, Boise, Chicago, San Francisco, the Los Angeles area and Palm Beach.

Seems like one to watch in the daily deal wars.