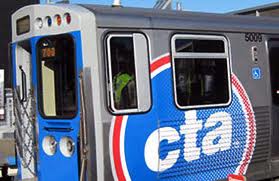 Imagine getting lost in a unique mural while waiting for the "L" at Argyle, or being swept away by an interesting sculpture at Granville before boarding a train. This soon will be a reality for Chicago Transit Authority Red Line riders who are the beneficiaries of a new public art commission.
The agency has put the call out to artists in Chicago and beyond, that it is looking for seven pieces of public art to install as the finishing touch on seven rehabbed red line north stations. With a deadline of October 10th, artists with great ideas should get their portfolio in at 567 W. Lake in Chicago, either in person or via mail.
Currently, the CTA's "collection," if-you-will, includes 50 works of original art along the Pink, Red and Brown lines.

"Original artwork adds immeasurable value not only to our stations and communities, but the overall transit experience for our riders," said CTA President Forrest Claypool.
Federal Formula Funds from the Federal Transit Administration will pay for the project. All applicants must follow the submission guidelines laid out by the CTA, which can be found online at TransitChicago.com.