Parents of students attending Whitney Young High School have been on high alert for the past week after multiple threats, soft lockdowns and increased security measures took place.
On Wednesday afternoon, these parents banded together, questioning the administration and ultimately, delivering their own message: They will not be intimidated.
"My main concern is how they did pep up security and just to make sure that all our children are safe," said parent Delphine Bridges.
A soft lockdown was in effect Wednesday after a second threat was found scrawled on a bathroom wall Tuesday.
The first one was found carved in a stall on Friday and it read "you will all pay 12/5."
"We did not identify who made the threats per se, but we did identify some students who we perhaps felt that could have written this," said Principal Dr. Joyce Kenner.
Parents Stand in Solidarity After Multiple Threats Made at Whitney Young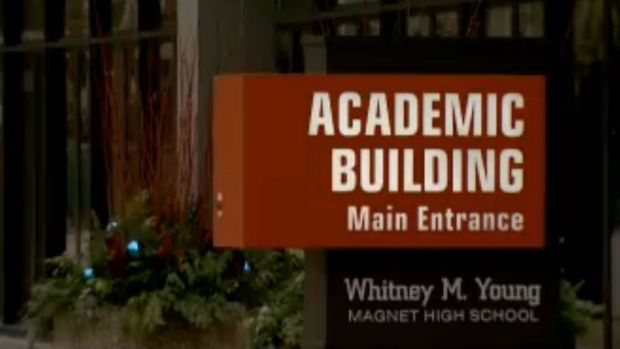 Although parents and school staff walked the perimeter of the magnet school before classes began Wednesday morning, many students were too afraid to attend classes.
"I didn't think it was safe myself and I didn't want to put myself in that predicament of gambling with my own life," expressed junior Julia Medina.
Parents met in the schools' theatre to talk with school officials about what is being done to enhance safety.
As of Wednesday afternoon, the school says police will have key FOB access to the school, a bag-screening machine has been requested, students can no longer take backpacks off campus during lunch time and parent patrols will soon be established.
"Now, I do think we are a little more safe, kind of, just getting over the hunch of today being the day that was in the threat," Medina said.
Random bag searches and increased security will remain in place for the time being. School administrators say they are also providing counseling services to those who need it.
The investigation as to who is making the threats is ongoing.