Monday, during the 10th inning vs. Washington, Cubs fans got full view of a problem that's plaguing the cubs.
Trainer Mark O'Neal headed to the mound to check on pitcher Marcos Mateo.
This marks the 10th time that a Cubs pitcher has been injured this season. Cubs fans usually drop to the floor in the fetal position, start shaking, and tell themselves, "It's not supposed to be like this."
At what point is someone going to ask if the way coach Mike Quade and pitching coach Mark Riggins --otherwise known in these parts as "Clueless" -- are to blame? And almost all of these injuries are arm or related. No one's missing time with a concussion here.
Mateo threw five innings of relief on the day Carlos Zambrano headed to the exit door too quickly after injuring his back. Though Mateo was brilliant in that outing, not giving up a run, it clearly took its toll as next time out he was headed for the table. Either he shouldn't have been brought back out so quickly or shouldn't have been used so heavily in the first place.
This followed the careering of Jeff Stevens's, when he "took one for the team" and threw 89 pitches in 3.1 innings as the Cubs were getting mauled and Quade didn't want to waste anyone else. It took Stevens months to recover from that, only just now returning to effectiveness in Iowa.
But it goes deeper. No starter from the Opening Day rotation as been able to avoid lunch dates with O'Neil, with only Ryan Dempster not landing on the DL, and he would have if there wasn't an All-Star Break coming up. And some of these pitcht totals, and styles, leave you to wonder.
Matt Garza has had five outings of 110 pitches or more. When he didn't get there, he was still laboring. 107 pitches to not get through six innings vs. the Brewers, 102 through six vs. the Rockies, 85 through five against St. Louis, 105 to get through six against the Reds, and an astonishing 113 to get through six innings against the Phillies. Some of this can be attributed to Garza striking out more batters than he ever has, but at what cost?
It's the same with all the other starters. Carlos Zambrano has broken 110 pitches seven times, yet has failed to get into the 7th inning of a game nine times. Ryan Dempster has thrown that many pitches seven times without getting to the seventh inning the same amout. The relievers are no better.
And a big reason why is the Cubs lead the league in walks, while also being in the top 10 in strikeouts. This leads to far too many pitches being thrown, which might be leading to all these injuries. For years under pitching coach Larry Rothschild, the Cubs chased K's like dogs chasing cars. They led the league many times in that category. But watch any game, and you'll see Cubs pitchers nibbling at corners or failing to put someone away on 0-2 counts. Their pitchers rarely go after anyone.
Compare that to the other side of town, where the White Sox are 26th in walks allowed. Who's hurt for them? Only the perpetual aching muscle that is Jake Peavy. Every other starter has barely missed a turn.
I don't know what routine Riggins has the Cubs pitchers on. I don't know what he's done differently than Rosthchild did here. But at some point, after yet another injury, shouldn't someone be asking? And shouldn't that someone be in the Cubs organization?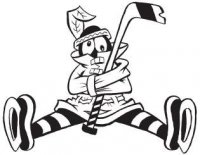 Sam Fels is the proprietor of The Committed Indian, an unofficial program for the Blackhawks. You may have seen him hocking the magazine outside the United Center at Gate 3. The program is also available for purchase online. Fels is a lifelong 'Hawks fan and he also writes for Second City Hockey .
Published at 12:51 PM CDT on Jul 5, 2011