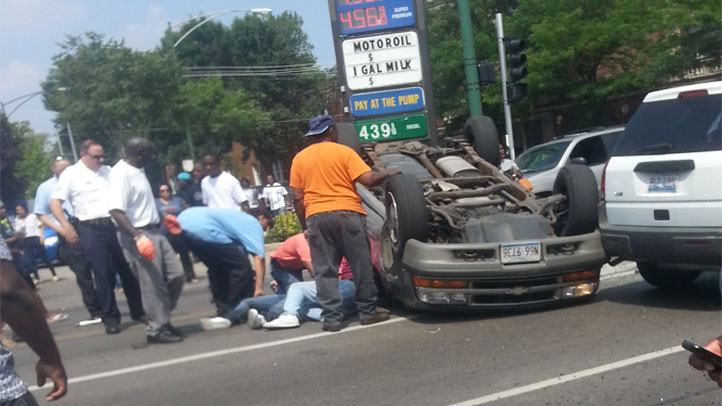 Seven people, including three children, were injured Thursday morning in a crash involving a squad car in Chicago's Gresham neighborhood, fire officials said.

The crash happened just after 11 a.m. at West 76th and South Halsted streets. Fire Department spokesman Larry Langford said two SUVs and a police cruiser were involved.

Eyewitness Nakia Terry said the female officer driving the squad car was eastbound on 76th Street with her lights on but no sirens as she approached the intersection.

"She was already going too fast," recalled Terry. "She hit the vehicle that was heading south on Halsted and the vehicle flipped over a couple of times and landed on its hood. That car then, in turn, hit another vehicle that was heading north on Halsted."

Two officers in the police car were taken to Christ Medical Center in Oak Lawn with non-life threatening injuries along with a person from another vehicle. Langford said the officers were alert and talking after the crash. Three children and an adult were taken to St. Bernard Hospital.

Terry said at least one of the crash victims appeared to be non-responsive as first-responders and passers by rushed to help.

"She never opened her eyes. She never moved," Terry said of one of the victims. "It was definitely a serious injury."

The crash reportedly occurred during a chase in the area of 75th Street and Union Avenue. A second police car sent to pursue a vehicle was involved.