Four people, including a child, were killed early Saturday in a wrong-way crash in northwest Indiana that also seriously injured three children.
Emergency crews responded to the crash about 1:40 a.m. in the eastbound lanes of the Indiana Toll Road near the Grant Street exit in Gary, according to Indiana state police.
A Toyota SUV was being driven west in the eastbound lanes without its headlines on, police said. It collided head-on with a Jeep SUV that had been traveling in the left lane.
The driver of the Toyota, identified by a family member as Tiara Davis, 25, of Calumet City, was pronounced dead at the scene by the Lake County Coroner, police said. The driver of the Jeep, later identified as Octavio Chavez Renovato, 45, of Chicago, also died at the scene, as did his wife Eva Gonzales, 34, who was in the passenger seat, and their son, Luis, 14.
According to some family members, they were traveling to New York.
Family Members Killed on Indiana Toll Road Crash
Three other children in the Jeep — the family's daughters, Damaris, 11; Emily, 10; and Florali, 7 months — were seriously injured and initially taken to Methodist Hospital in Gary, according to police. Emily was later air-lifted to Advocate Christ Medical Center, while Damaris and Florali, the latter in a child safety seat, were flown to Comer Children's Hospital.
As of Sunday evening, the 11-year-old and the 7-month-old are in stable condition at Comer Children's Hospital, while the 10-year-old is in critical condition at Advocate Christ Medical Center.
4 Killed, 3 Seriously Injured in Wrong Way Crash on Indiana Toll Road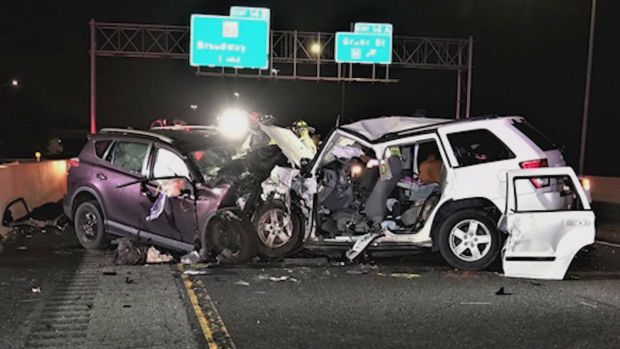 Police believed alcohol may have been a factor in the crash. Toxicology was pending.