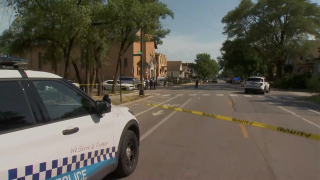 Three people were injured in a shooting Saturday outside a church in Chicago's Roseland neighborhood, according to authorities.
Officials said people were coming out of a funeral at Universal Community Missionary church, located at 10809 S. State St., when shots were fired by an occupant of a gray sedan.
A 20-year-old man sustained a gunshot wound to the abdomen, shoulder and leg. He was taken to Roseland Hospital in good condition. A second victim, a 37-year-old man, was shot in the upper right thigh and also listed in good condition at the hospital. A third victim, 25 years old, was transported to Advocate Christ Medical Center and listed in good condition.
Authorities said there could have been others transported to nearby hospitals, but cannot confirm at this time.
No arrests had been made as of Saturday evening.