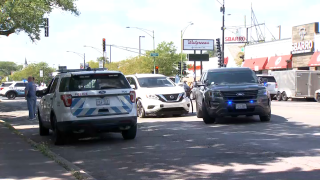 A Chicago police officer and an elderly couple were injured in a crash Wednesday following a police chase on the city's Northwest side, authorities say.
Commander Elizabeth Collazo of the 14th District said a vehicle fleeing a traffic stop veered toward an 83-year-old woman and 81-year-old man, who were waiting for a bus on the corner of Fullerton and Central in the Belmont Cragin neighborhood Wednesday morning.
That vehicle crashed into a marked Chicago police vehicle that was already at the intersection on an unrelated call, ending the chase just after 11:30 a.m.
All three people injured, including the officer, were listed as stable, according to officials.
Collazo did not reveal why officers initially attempted to stop the car, but said a man and a woman inside were taken into custody after the crash, and a weapon was recovered at the scene.
"[The car] did stop, then fled, and within minutes is when the crash happened," said Collazo.
It remains unclear whether the couple was able to avoid the vehicle, or if they were struck at the scene.
The intersection is a popular route through the neighborhood, and is currently being resurfaced. The chase occurred just steps from Prieto Math and Science Academy and Hanson Park Elementary School.
"Over here, this corner specifically, there's always an accident," said area resident Daisy Villada, who works at the Sbarro across the street.
Villada said she was relieved children were not out on the corner when the crash occurred.
"That's the time usually the kids come out so I'm glad [police] stopped it before anything happened," she said.
Chicago Police Department data shows the 14th District has seen a slight increase in violent crime so far in 2022, up 5.3% over the previous year. That is driven largely by a sharp increase in robberies, which are up 62% compared to 2021.