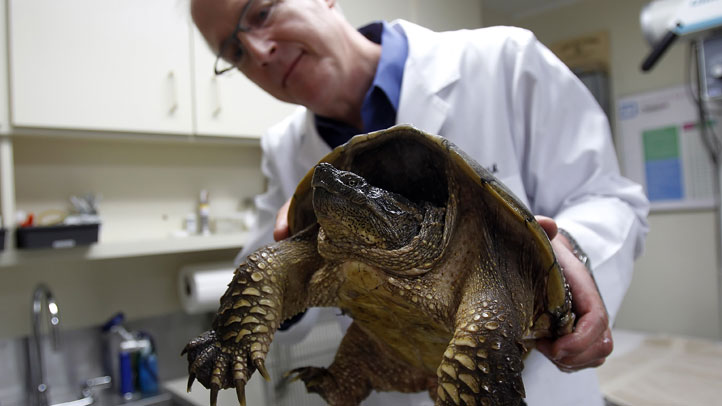 Glencoe police were called to the scene of a peculiar accident on Friday.
A turtle had been run over.
Laura Ashman, of the 1000 block of Edgebrook Lane, made the call herself when she realized she drove over the 17-pound turtle while backing out of her driveway.
Summer marks the season for many in the reptilian family to lay their eggs. In keeping with this mom-to-be and her "birthing/egg-laying plan," the turtle was making her way from the Skokie Lagoons to nearby field when the mishap occurred.

Although the turtle suffered a cracked shell and a gash, she is said to be doing fine.
Animal control officer Kate Sweeney was called on site to evaluate the situation. She sent the case to Stephen Barton of the Vernon Hills Animal Hospital in Mundelein who specializes in shell reconstruction.

Barton was able to hook, wire and epoxy glue the cracked shell back together again.
Until the hooks fall off, the turtle will be laying her eggs and resting comfortably at the Wildlife Discovery Center at Elawa Farm in Lake Forest.