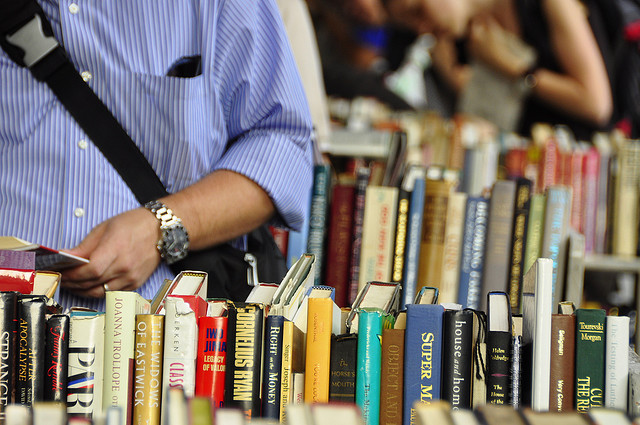 Welcome back to the Social Media Book Club. The great Inc. Well experiment continues wherein I pair with Lindy Sinclair, who runs operations for Rohner Letterpress in Chicago: She reads a different entrepreneurial-minded book, I stand in for the curious potential reader and we talk about whether it's worth a read. Last time we did "The $100 Startup," and this time around we're doing "The Big Enough Company: Creating a Business That Works for You," a book by Adelaide Lancaster and Amy Abrams. Let's get into it.
All right. Let's start off with something basic: Who is this book for?
Lindy: "The Big Enough Company" is targeted mainly to those who are already running their own businesses, and are looking for tune-up help. The authors run a community workspace and education center focused on women entrepreneurs in New York, and the book is drawn from their work.
Who is this book NOT for?
Lindy: Folks who know exactly why they run their own business, and what the purpose of their business is.
So this is for people who have jumped in, started, but are maybe feeling a little lost on their path?
Lindy: That's definitely who the book would be most helpful for. Using a diverse group of case studies, along with periodic question lists, the book's aim is to help the business owner define how their business can best work for them. The theory is that by defining what you need from your business, what purpose your business serves, and what you would define as success, the choices you make for your company become clearer, if not always easier, because you've established personal metrics to measure against.
How does the book help you define your business? Quizzes?
Lindy: Chapters are punctuated with "For Your Consideration" boxes, which are usually three or four questions to ponder and answer. I think reading it in chunks along with a dedicated notebook would be helpful. They use a lot of business comparisons to show how women who might be in the same business (a gourmet food store is one of their recurring examples) would develop their companies differently depending on their different answers. (And just to say; though the book showcases women entrepreneurs exclusively, the questions they ask would be helpful for any business owner to answer and define, not just the female variety.)
Did the book help you at all? Did you have any unexpected revelations or realizations?
Lindy: Well, I did enjoy seeing a couple familiar names in the book of folks we've worked with at Rohner! But seriously, some of the questions definitely gave me pause, and I'll be going back over a few of the chapters to more deeply delve into the questions of business focus. It's easy to feel like you need to respond to every request, when setting the boundaries and sightlines of your company would help shape both the quality of your work, and many times amplify its success.
The book ends each chapter with a "Troubleshooting" section, which they subtitle, "Getting In Your Own Way," which I know is a frequent problem I have! Whether it's trying to get a new website just perfect, or growing the business in a way someone else thinks you "should," this book drives home that there are so many pitfalls that can be avoided or at least minimized by reminding yourself why you do what you do.
Sounds like you're strongly recommending folks check this out. Do you have any criticisms at all?
Lindy: Well, the general structure was a little cutesy for my taste; the case studies all had names like "Should-I Shannon" and "Too-Many Margo."
That's small potatoes, relatively speaking. The message is strong, though, and you think it's well worth a read?
Lindy: It's definitely a book you would only get out of what you put into it. You could easily read it as a cute, glossy story about a bunch of women who run nice little companies and not think another thing of it. It's not terribly hard-hitting. But if you really are willing to take the time to think through the questions they ask, the potential for really changing the way you think about your business is there. (I guess that's both a criticism and a strength, depending on what you're looking for.)
The experience of the authors is what makes this a compelling read. Counseling business owners is what they do day in and day out, so it's a stronger book in terms of guidance than one written by an author with one successful company, just explaining what they've done.
David Wolinsky is a freelance writer and a lifelong Chicagoan. In addition to currently serving as IFC's comedy, film, and TV blogger, he's also a comedy-writing instructor for Second City and an adjunct professor in DePaul's College of Computing and Digital Media. (He also co-runs a blog behind the DePaul class, DIY Game Dev.) He was the Chicago city editor for The Onion A.V. Club where he provided in-depth daily coverage of this city's bustling arts/entertainment scene for half a decade. His first career aspirations were to be a game-show host.
Lindy Sinclair has pursued her lifelong interest in small business into her current gigs running operations at Rohner Letterpress and co-organizing YarnCon. She's worked with hundreds of independent artists, artisans, and other business owners over the last two decades.