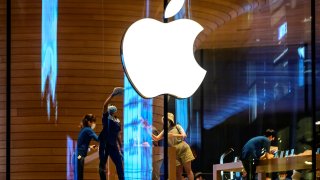 (This article was sent first to members of the CNBC Investing Club with Jim Cramer. To get the real-time updates in your inbox, subscribe here.)
What I am looking at, December 2, 2021:
Apple (AAPL)... Bloomberg supplier sourced article indicates slowdown with Apple iPhone 13, counter from all research before this including Evidence Lab from UBS the day before citing robust demand... Did Apple double order and get enough supplies?... one thing is certain: no Apple supplier would EVER tell the media that Apple sales are weaker... they won't be an Apple supplier anymore ... Wedbush sees $3 trillion market cap—Wedbush says 13 much stronger than expected...
Developing worst case scenarios, on Feb 26 of 2020, when Pence was designated Covid task force head, Trump pronounced the pandemic "contained."  Dow stood at 27,000. One month later it was at 18,000... omicron right now seems to be able to attack those who have had Covid, that's 50 million...JPMorgan equity strategists going with theory that omicron is more viral, but less virulent: Cold vs. Pneumonia...
Pfizer (PFE) antiviral may be best hope against Omicron...
Multiple price target boosts on Snowflake (SNOW)...
CrowdStrike (CRWD) beats numbers, but multiple price target cuts from analysts...
Splunk (SPLK) doesn't make the numbers, slaughtered...
Okta (OKTA) beats numbers, raises forecasts...but price target cuts...
Boeing (BA)...China clears 737Max to fly again… should bring new orders... maybe huge new orders... China charmer—Nike, SBUX, AAPL...
Snap (SNAP)... UBS starts with a buy... says AR and advertising looking good...
Baird sees Teladoc (TDOC) as buy... says omicron/flu opportunity...
Five Below (FIVE)... multiple price target boosts... good model...
Blade Air Mobility (BLDE)... short term buy catalyst call from Deutsche Bank...but says there's headline risk
Ford (F)... downgraded by Wolfe... analyst prefers GM...Ford up too much... 122% year to date...
The environment is so bad... Crowdstrike (on Mad tonight) was really good and Okta was really good and they are still having price targets cut...
Uber (UBER)... started with buy and  $80 price target at UBS... cites multiple expansion and margin improvement... can we start at $60 please?
UBS starts Meta (FB) with a buy... cites better operating performance...
Unity (U)...doing so great but there is relentless selling by Cathie Wood ... he's working with Nvidia for the omniverse...
Dollar General (DG)... disappointment... sales down 0.6%... was supposed to be down 0.5%...but beat by five cents
Very early testing ... GlaxoSmithKline (GSK) drip... could work against omicron… $1b contract with US government... I would take it if I got it... many variants covered... needs to be tested—all extrapolation...
OPEC meeting right now
Alphabet (GOOGL)... UBS starts with buy rating and  $3925 price target.... up from $3190 previous target...cites cloud tailwind
Costco (COST)... some decel in monthly sales... US comps ex gas  9.1% (11.4% est)...can you really sell this and then buy it back? I don't think so...
The CNBC Investing Club is now the official home to my Charitable Trust. It's the place where you can see every move we make for the portfolio and get my market insight before anyone else. The Charitable Trust and my writings are no longer affiliated with Action Alerts Plus in any way.
As a subscriber to the CNBC Investing Club with Jim Cramer, you will receive a trade alert before Jim makes a trade. Typically, Jim waits 45 minutes after sending a trade alert before buying or selling a stock in his charitable trust's portfolio. If the trade alert is sent pre-market, Jim waits 5 minutes after the market opens before executing the trade. If the trade alert is issued with less than 45 minutes in the trading day, Jim executes the trade 5 minutes before the market closes. If Jim has talked about a stock on CNBC TV, he waits 72 hours after issuing the trade alert before executing the trade. See here for the investing disclaimer.
 (Jim Cramer's Charitable Trust is long AAPL, BA, F, FB, GOOGL, COST.)
Copyright CNBCs - CNBC