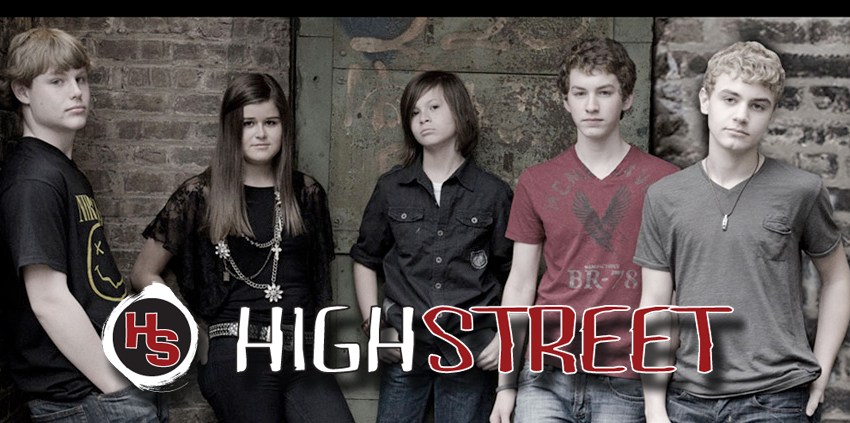 Plenty of people think their kids are super gosh-darned talented, but not everyone would deign to manage their band if given the opportunity. Well, not everyone's as committed a father as Chicagoan David Findling, who manages and books shows for his son Kurt and Erik's band, High Street. The band isn't only young in terms of how long they've been along (since spring 2011), but they're also young: the average age of the band is 13.
That doesn't mean they're not accomplished though. High Street recently announced its second album, Nocturnal, and also released an EP for that album on iTunes in early March. In addition to that, the bluesy rock quintet has already played venues like the Cubby Bear and US Cellular Field and also been getting airtime on local radio. So, clearly, Findling senior is doing something right.
I gave him a call to find out what that something is.
Have you managed bands before?
David Findling: My first time. My experience was only as a performer/musician for a short period of time many, many years ago. From the business side of things, I really have been a rookie. I moved here from California in '92, so, I haven't done anything here in Chicago. So, actually, figuring out the music industry in Chicago was a challenge as well. [Laughs.]
How so?
David Findling: Well, the music industry has changed a great deal. Whether you're a performer or a manager or a recording engineer, whatever it is, the entire business model has been dismantled with the whole development of digital downloads of music. That's No. 1, and then No. 2 is the development of social media. Those two things in my opinion have completely changed the makeup of the music industry and it's actually just put it in a real fragmented state of flux. It's very hard to see a roadmap because there's several different roadmaps. In the old days, it was "get a record deal," right? [Laughs.] That's not how it is anymore.
No, I know all about it, because I got my degree in music business and artist management at MTSU near Nashville. It's all changed drastically. But, anyway, how did you wind up stepping into this role?
David Findling: Well, we have a very unique product, if you will. This band is comprised of very talented, very young musicians. They're freshmen in high school. So, you do the math, they started playing when they were 10 years old. As they developed over that period of time from playing cover songs -- what you would typically learn to play your instruments on -- the creativity started coming out at a very young age. Two of my sons are in the group, and group rehearses in our home, in the rehearsal studio that I built.
What began as a garage-band session every weekend to learn some classic rock covers evolved because the skill level and the creativity of the kids was outpacing playing "Highway To Hell." They were better than that. Quite frankly, they got bored with it. I started to try to figure out the music industry locally to help them develop. The first thing that I did was interview and identify potential managers and artist-development people. With your background in Nashville, you know what an artist developer does.
We found a young man who was very knowledgeable about the music industry in Chicago and we brought him on board in 2010 to work with the kids for about a year and that was a very good experience. He was very knowledgeable about what needed to be done. For example, he got them really writing their own originals and helping them extract original material out of themselves. It's a challenge to do. On top of that, the development of websites, online marketing, the team and the tools that you need to put into place, we learned a little bit about that from him. He was with us for about a year.
Was that intentional from the outset, that he'd only be with you guys for a year?
David Findling: No, no. Again, they were very young so it was an experiment that was actually very successful. What we learned from that experiment is that at the end of the day. Everything you do to be successful in music in Chicago, or I guess anywhere, is the band has to do 99 percent of it. The manager, if you will, or the advisor is an important role from a connections standpoint, but beyond executing the tasks of creating the online, creating the social media, getting out there to the press, etc., are things that the band really needs to self-perform as they create their identity. After that year we had realized that we need to do more of this ourselves. So, we took the bull by the horns after a year.
And again, that was a very successful experiment with a third party. But I decided to step into the role just to manage this group and to see how far we can take them, given that the luxury they have is time. They're young.
What advice would you give to other people who are thinking of becoming an artist manager?
David Findling: You gotta have a good product. You can be a really smart manager and do a lot of things but the first thing is you gotta have a product, a good product, and your product has to sell. There's a lot of bands out there and the luxury of Chicago is we got a really nice music legacy and history in this town, and it's blues-based, a lot of blues and jazz in this city. We've got a real good record history here. No real significant labels, obviously, left, but a lot of great legacy here. And that's a great thing because we're a huge city, and when you're a huge city you've got a big demographic. And we've got all different kinds of people in Chicagoland. Suburban, city, you name it. Every income, every demographic you can think of, you've got really big slices of here. That's the opportunity. You gotta find a product, a band, that can create original music.
The band does two things, right? They create original music that hopefully has appeal. And they they gotta have a stage show where they perform and build a fanbase that wants to see them play live. Those are really the two things that a band has to do extraordinarily well. If you can find a band that can do those things very well and you're convinced that it's gonna sell to a broad demographic in Chicagoland, then you've really got something to dive onto. I think the managerial part is cunning. I'm coming to the conclusion that that's easier, provided that you've got the right band and you think that the band appeals to a broad demographic.
Where are you hoping to take the band this year? What goals do you have?
David Findling: The band just finished its second album and right now we're really going to do two things. Our objective in the near term is to build their fanbase across Chicagoland. We're going to do that through social media. We're gonna do that through playing live. We gotta hit those three things real hard, and over the course of the next 12 months we're gonna focus really entirely on fan-building.
I've become really fascinated by this whole pop-vocal thing with this British boy band, One Direction. Those kids just performed on Saturday Night Live last week and that was their first gig in the United States.
Not bad.
David Findling: Not bad at all. But, well, why did that happen? They're cut from the same cloth as an NSYNC or a Backstreet Boys. Well, that's the beauty of social media. That's the fact that you can get seen across the world without necessarily having to be there. I found that really fascinating that you get that kind of a gig and not have been there yet. The Beatles did it 40 years ago and played Ed Sullivan and had not been to the states yet, but they had some really massively No. 1 hits in England first.
Can you imagine what would've happened to The Beatles if social media had been around in their day?
David Findling: Oh, my God. It would've been insane. They were, like, the first boy band. They were. Their fanbase was exactly the same thing as pre-teen and teen kids. But that -- they had never seen that before, so it was perfect.
How did you manage to secure radio play and gigs like US Cellular Field?
David Findling: It's not easy, Dave. [Laughs.] We have a great little band but we're young. We have limitations on the places we can play live. So, we've had to get creative. There's probably eight to 10 venues in the city that do all-ages shows pretty regularly like the Metro and Subterranean and Beat Kitchen. All those are on our list to eventually play. There are suburban places that do all-ages shows as well, like The Alley in Highwood.
How we've been able to secure those? Quite frankly, good old-fashioned bird-dogging the booking reps at these places and then getting them to listen to the original material by the band, because usually they'll look at the picture, see how they're youth, and maybe be even somewhat discriminated against because of it. What's nice is if they hear the music first, then maybe we can hook 'em that way.
David Wolinsky is a freelance writer and a lifelong Chicagoan. In addition to currently serving as an interviewer-writer for Adult Swim, he's also a columnist for EGM. He was the Chicago city editor for The Onion A.V. Club where he provided in-depth daily coverage of this city's bustling arts/entertainment scene for half a decade. When not playing video games for work he's thinking of dashing out to Chicago Diner, Pizano's, or Yummy Yummy. His first career aspirations were to be a game-show host.