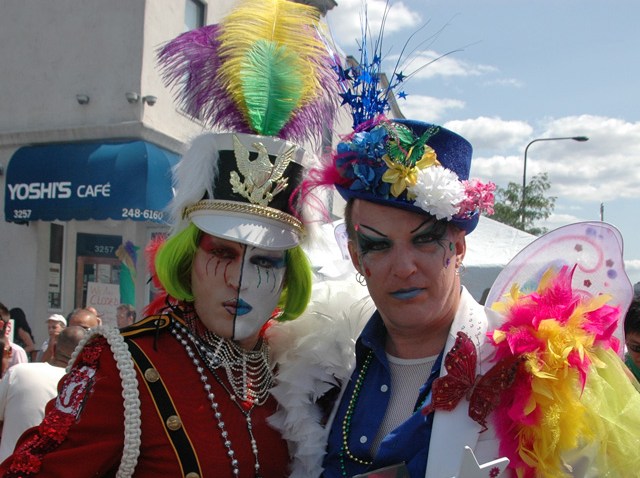 We realize not everyone will be getting their Lolla on this weekend. If that's your thing, check out this list of after-parties. Now some options for the rest of you:

NORTHALSTED MARKET DAYS: It's the wildest street festival of the season, and absolutely anything goes. The music, the fashion, the crazy antics of everyone you encounter. If you need a break along the strip on Halsted between Belmont and Addison, just head to Yoshi's Cafe for champagne cocktails and signature bites from the globally influenced menu. Another favorite is Jack's on Halsted, which offers a casual menu of contemporary American dishes.

ART ON TRACK: The the world's largest mobile art exhibit hits the Loop on Saturday evening. Eight CTA El cars on one train will be decorated in a number of interactive ways, designed by local artists. The entrance is at the Adams and Wabash CTA platform, and the train will circle around the Loop from 5-10 p.m. Tickets can be purchased in advanced for $8 at www.ticketleap.com or on the platform the day of the event for $10.

FESTA ITALIANA: Hit Little Italy this weekend for this annual festival. Enjoy entertainment like Frank Sinatra tribute artists to Iron Chef-like demonstrations. And of course, the many restaurants in the neighborhood will be well-represented. Taylor Street and Ashland Avenue, $3-$7

Clandestino: OK, we lied, we've got one Lolla gig for ya. One of our favorite underground dining groups is doing an "old style" Lolla after-party complete with—you guessed—Old Style beer. They'll also planning to serve late-night street food inspired by their favorite Lolla artists. Starts at 10:30pm Friday and Saturday. RSVP here.

Audarshia Townsend is the creator of the local food blog 312DiningDiva.com. She also provides content for Dining Chicago and Playboy.com.