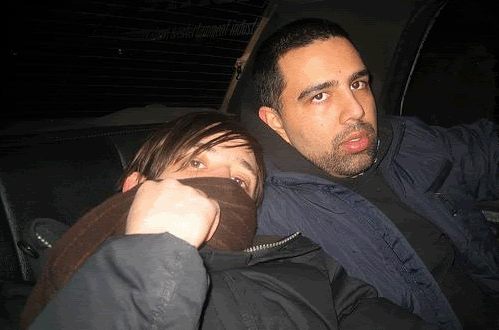 Elliot Lipp and Leo123: Shooting out the lights
If you've yet to finalize your plans for New Years Eve and you'd like an evening of electronic music with a less hefty cover charge, you can head over and catch The Abbey's NYE billing of eclectic grooves featuring performances by Future Rock, Daedelus, and Dark Party.
Dark Party is the duo of Elliot Lipp and Leo123, and exists as a side-project for Lipp's when he's not recording and performing solo. While based in New York, Lipp comes through town fairly frequently -- partially because he likes playing in Chicago, and partly because Chicago is presently the home of his Dark Party colleague, West Coast transplant Leonardo Ciccone. Reputedly, the duo's recorded a debut album that'll be coming out on the Mush label some time in 2009. Unlike the sleek, chrome-plated sheen of Lipp's usual style of electronica, Dark Party offers a doper, more bumpin' ride; with Lipp laying down the bleeps and textures as Leon punches out labyrinths of twisting rhythms that owe more than a little to the pop-locking 808 beats of oldskool hip-hop and electro-funk pioneers like Mantronix and Newcleus.
Also on the bill is Los Angeles native and leftfield e-music producer Daedelus. Daedelus has had a good year, having played here on the bill of The Wire magazine's Adventures In Modern Music festival back in the summer, and he's found a larger, enthusiastic audience since his latest album, Love To Make Music To, dropped via the prestigious Ninja Tunes label and subsequently ended up on a few critics' "Best of 2008" lists. Additionally, he had something of a viral internet hit with the pro-Obama track he did with TI$A from Sa-Ra. (And it didn't hurt that he gained a little vicarious attention due to the accolades that his home-turf friend and associate Flying Lotus has received over the past several months.)
Headlining on the NYE billing is the Chicago electronica trio Future Rock. DJ Ben Silver spins. Doors open at 8, show's at 9, and the admission is $25 in advance, $30 the day of. 3420 W. Grace (at Elston). See The Abbey's website for further info.
[mp3]: Future Rock - podcast for NYE show*
[video]: Daedelus - live mix on Dublab rooftop
* featuring tracks by all 3 artists
Copyright Trans - Transmission