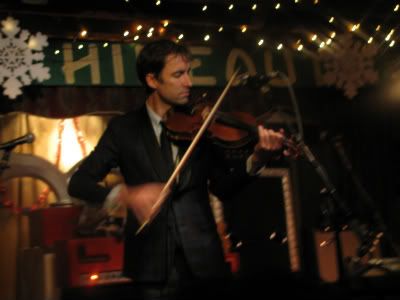 Before embarking on a national tour to support his upcoming album, Noble Beast (due out in January), Andrew Bird treated his hometown to two secret shows at the Hideout Sunday and Monday night. The Hideout is a perfect venue for such an event - it is so tiny that you feel incredibly lucky to have gotten in, plus if you're like me and use public transportation, you have to earn your right to be there by navigating past dark alleys and abandoned factories to this out-of-the-way location. After walking almost a mile in the rain, I was ready to be amazed, and Mr. Bird delivered.
Complete with his signature sock monkey and twirling phonograph horns, Andrew wowed the audience with his new material. It is difficult to keep the attention of a crowd at a concert when playing a song they've never heard, so a show that is almost entirely debuting new songs is bound to disengage the crowd. However, Andrew's passion for his music and his magnetic stage presence kept the crowd entranced. Switching between the violin, xylophone, and guitar, plus adding in a bit of whistling, I began to really appreciate the immense amount of talent performing in front of me, moreso than by just listening to an album. He even took a few minutes to explain the technical aspect of his looping process to the audience, which I still do not fully understand. He also scattered in a few hits, like "Imitosis", "Plasticities" and "Tables and Chairs".
This night was breathtaking, and made me anxious for the release of Andrew's new album. While Andrew's exquisite songwriting and whimsical lyricisms stand out on his studio tracks, his live show is truly an experience and I feel I am only now fully grasping his splendor. I did not even notice the mile walk back to the el (even though it was still pouring rain); I was enveloped in awe.
Copyright Trans - Transmission