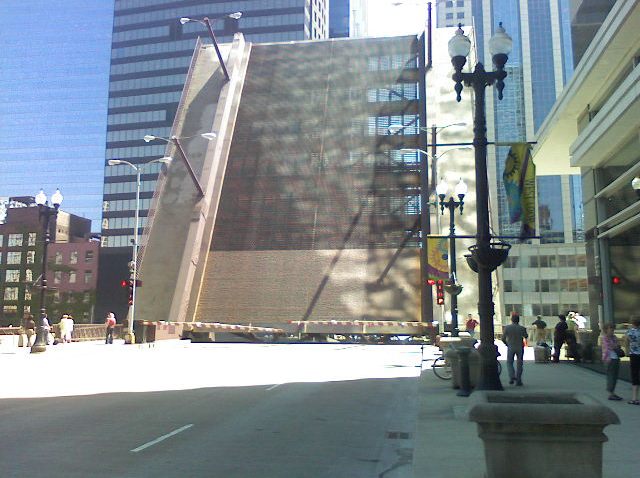 Remember in the movie Blues Brothers, when Elwood Blues (Dan Akroyd) takes the Bluesmobile over the bridge when it was opening and easily lands on the other side? Yeah, that could never happen in real life but I'm sure you think about it every time you see the gates go down when you're late for a meeting on the otherside of the Loop.
Well it's time to get ready for more inconveniences like that when the fall bridge lifts start up again. Expect it to be a problem on Saturday Wednesday mornings for the next month. Takes about 8-10 minutes each time. Why are they doing this? Well the pretty sailboats and expensive yachts can't stay on the lake all winter can they?
Remember, when the clocks are about to change, think about flipping the batteries on the smoke alarm and expect the bridges to go up.
**No, I wasn't able to drop by a McDonalds to get a free transit card. Metra and the CTA teamed up to help push the angus third-pounder and the idea of public transportation. They were expected to hand out 5,000 coupons and 5,000 fare cards. Did you get one? If so, let me know. I'm curious to see how it worked out.
**The Thursday Traffic Trivia question surrounded the controversy of the red-light cameras. We wanted to know how many intersections in Chicago had the cameras installed. You can find the answer in today's Chat With Matt conversation.
Also, I mentioned a story about a Homewood police officer who had a strange story about getting a ticket, even though he wasn't behind the wheel. Check it out in the Southtown Star
**Dance Friday tomorrow. Come out and win some Sox tickets and an Ozzie Bobblehead. (actual Sox manager sold separately). We'll see you on the Plaza!