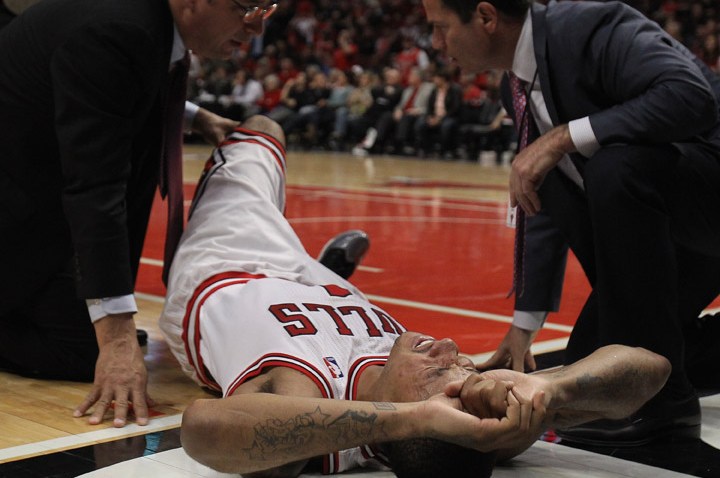 The Bulls should be celebrating a Game 1 victory over the Philadelphia 76ers at the United Center, but instead everyone is mourning the loss of Derrick Rose.
The Chicago Bulls issued a release saying that Rose tore his Anterior Cruciate Ligament, ACL, and will be out for the remainder of the season.
Rose injured his left knee on a drive to the basket late in the 4th quarter with the Bulls holding on to a 12-point lead. After planting with his left leg and attempting a jump-stop move, Rose immediately grimaced, clutched his knee area and crumpled to the floor. As play continued the other way Rose just sat on the court, clearly in pain.
At first believed to be an injury to his ankle, as the Bulls' medical staff tended to him, he could be seen pointing to the outside of his left knee as the source of pain.
After a few minutes, the medical staff was able to get Derrick to his feet and with their assistance, he was taken off the floor and transported immediately to Rush University Medical Center for an MRI. The results showed that Rose had indeed torn his ACL.
It's unfortunate because Rose has been bitten by the injury big all season long and actually played well in the ball game. After a slow start in the first half, he was one assist and one rebound away from recording a triple-double, and finished the game with 29 points, 9 rebounds and 9 assists.
"I just feel bad for him, man. He really can't catch a break this year," said teammate Carlos Boozer who finished the game with 9 points and 7 rebounds and called Chicago's win over Philadelphia the "saddest win ever."
"Every time he gets going – like tonight, he almost has a triple-double – this happens. I just feel bad for him. Our prayers are with him, constantly, and again, we're hoping for the best right now."
As one can imagine, the mood in the Bulls locker room after the game was extremely somber. Tom Thibodeau will shoulder much of the blame for having Rose out on the floor with the game pretty much in hand, but injuries happen. They're part of the game. You don't coach with the expectation of someone getting hurt. You coach to win the game.
"I don't work backwards like you guys [media] do. The score was going the other way," said Thibodeau when asked why Rose was on the floor. He was correct, too. Chicago was up 20 with less than 6 minutes to play and Philly made a run. Turnovers and bad shots on the part of Chicago gave the Sixers an advantage.
What happened to Rose is unfortunate, but no one should have to bear the blame. The entire city is sending him get well wishes.