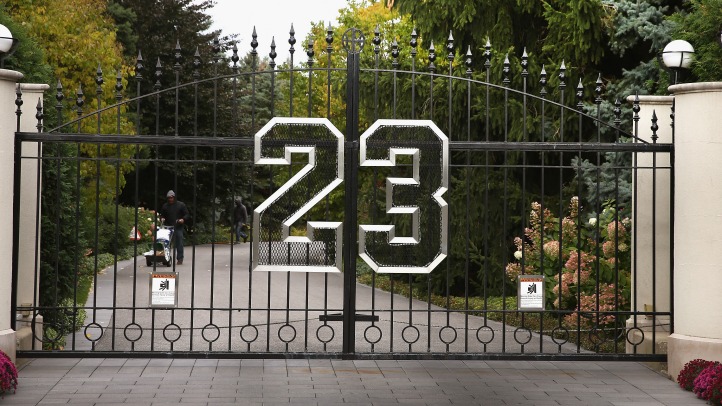 UPDATE: Michael Jordan Estate Fails To Sell at Auction

Michael Jordan's 56,000-square foot home in suburban Chicago is set for auction.
Concierge Auctions says the sale will be Monday. The company runs the sales of high-end real estate and features Jordan's Highland Park home north of Chicago on its website.
The auction was postponed last month in order to allow bidders more time to see the property.
Jordan originally listed the mansion, which sits on 7.39 acres of land, for $29 million in February 2012, but was unable to sell it.
The home includes nine bedrooms, 19 bathrooms and an NBA-regulation basketball court, not to mention a weight room, a three-bedroom guesthouse, pool, outdoor tennis court and three climate-controlled multi-car garages. Jordan bought the land in 1991 and moved into the home in 1994.
Jordan knocked $8 million off his asking price in July, a 28 percent drop, but still couldn't get the home to sell.
"My kids are grown now and I don't need a large house in Chicago," Jordan told The Wall Street Journal via an email. "It was time for some warmer weather down at my new home in Florida."
He now owns a $12.4 million home in Jupiter, Fla., as well as $3.12 million condominium properties in Charlotte, NC.
Jordan decided to auction off the Illinois property, because "some of the best things in the world are sold at auction, and I've seen that this is the beginning of a trend for selling unique, one-of-a-kind homes."
Copyright AP - Associated Press