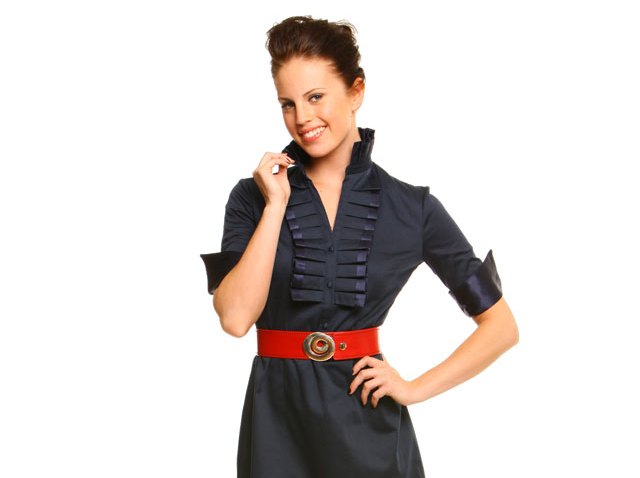 Hope you like ruffles.
Because that's what you get with the latest collection from Kate Boggiano -- the Chicago fashion line from former Polo Ralph Lauren designer Kate Coxsworth -- that's featured in InStyle magazine this month.
We chatted with Coxworth about her brand and what Chicago ladies can expect when they purchase a
Kate Boggiano
piece.
So, what's the signature detail in your line?
Signature detail=ruffles. Our signature blouse is our Isadora blouse as featured in InStyle magazine this month.
Very cool. How did you start in the business?
KC: My grandmothers were both excellent seamstresses. I used to take sewing lesions from a very young age. After [high school] graduation, I moved to
NYC
where I eventually got a job with Ralph Lauren as a technical designer (fitting, patternmaking, communicating with the factories overseas etc) and later moved on to being a product merchant. I moved back to Chicago in November of 2006 and started Kate Boggiano. I had learned in NYC that the merchandising strategy of keeping things "narrow and deep" was a very smart strategy and thus I launched Kate Boggiano with a focus on women's shirting.
Why shirts as opposed to other items?
To me, it was obvious, there was a lack of high quality shirting in the industry since everyone was on the knit and denim bandwagon.
But how'd you get inspired to do shirts?
We are really all about listening to what the customer wants and seeing and following what they tell us to while putting a few ruffles on here and there
Anyone that you are dying to dress in Hollywood?
Honestly, I'm not a big fan of dressing celebrities. To me, it's much more important to have real women wearing the clothing, loving it and telling their friends.
What can Chicago women look for in this year's Holiday trends.
The trends for Holiday will be not as dressy as years past, but it will be more exciting and detail oriented than the last few years. Look for great, exciting separates that will be able to be worn to an event or dressed down for the office.+
Most importantly, where can we find your clothing?