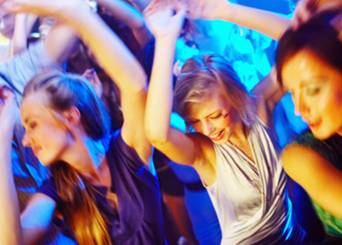 The thought of flaunting a banging bod this summer at the beach is enticing, but the idea of sweating away on the treadmill for hours on end? Not so much. Especially when you could be indulging in a cocktail instead.
But now you can get the best of both worlds with a series of new classes that are bringing the bar to the gym -- well, kind of.
Barre, yoga and spin destination,
Fit Girl Studio
, has launched two new classes that take the boredom out of burning calories and bring the fun of going to the nightclub instead.
You may temporarily forget you are working out when you pop into Dance Party Yoga, a yoga class that incorporates dance party moves between poses and set to an upbeat, party-themed soundtrack.
And you may, for a split second, think you're inside
Studio Paris
instead of the gym when you sign up for their Live DJ Spinning Class, complete with a local DJ spinning the latest hits, dark lighting, and even a flashy disco ball.
The only downside? There won't be a glittery stiletto, pleather pant or Jersey Shore-type backless dress in sight. Actually, come to think of it, that may actually be a huge bonus.