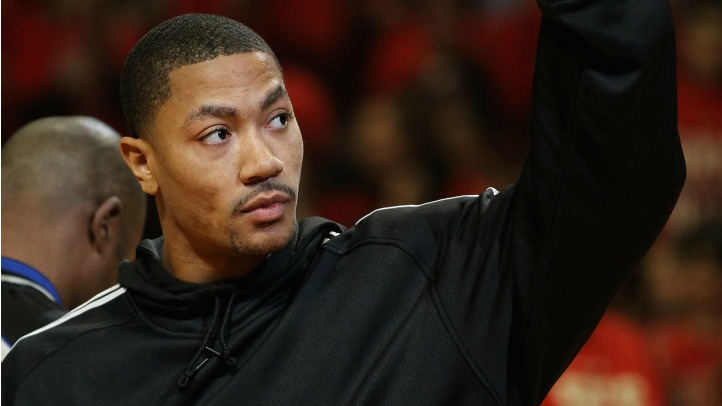 After Tuesday night's loss to Philadelphia, a game in which Chicago's much-heralded defense suddenly disappeared into thin air, the disappointment on the players' faces was obvious.
This time, the loss was on them and they all knew it.
Since Derrick Rose went down with a torn anterior cruciate ligament in Game 1, Kyle Korver and Scottie Pippen have both delivered messages to the team imploring them to come together in the wake of losing their best player and leader. But after Game 2's heartbreaking defeat, the Bulls MVP decided to deliver a message of his own.
"He was like, 'Get y'all heads up, it's just one game. The series ain't over. If anything, it's just beginning," said John Lucas III whose locker at the United Center is right next to Rose's.
"He's a leader and it's always great to have our leader in here," Lucas said. "He said a few words, and told us exactly what we have to do which is go out there, play our hearts out and get this W [in Game 3]."
Kyle Korver echoed Lucas III's sentiments about Rose's appearance at the arena on Tuesday night.
"It was great to have him here," said Korver.
"We obviously love having him around. He does so much more than just shoot baskets for us. He's a great teammate and he was in here after the game telling us to keep our heads up and we will."
Rose, who arrived at the United Center earlier in the day for more treatment to strengthen his quad muscles before surgery to repair his injured ACL, clapped for his teammates during pre-game introductions then walked out to half-court and waved to the crowd as he presented the official game ball.
He then exited and watched the first few minutes of the game from the luxury suite that usually houses his family – the one he blows kisses to – by himself.
It was in that moment you couldn't help but feel bad for him.
You know that as a competitor, he wanted to be out there helping his team. But sitting in that box, wearing the black adidas Bulls warm-up suit and watching the game from the same vantage point of any other fan, you have to imagine that at that very moment, reality had officially set in for him.
Fortunately, he wouldn't be by himself for very long as he was eventually joined by his mom and a throng of other family members and friends who all took in the game together.