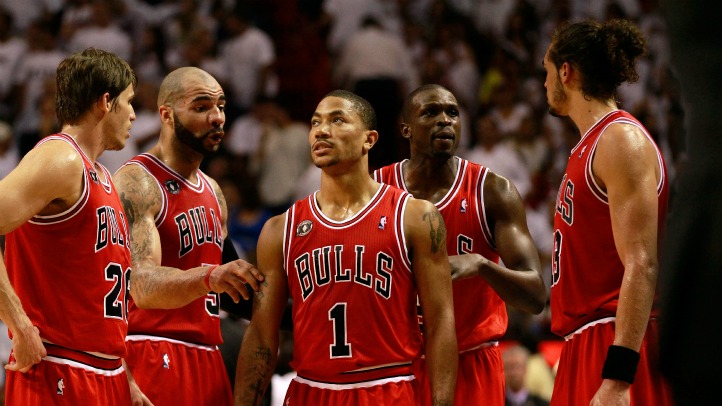 Derrick Rose and the Chicago Bulls have pulled in yet another No. 1 ranking.
First the Bulls clinched the top seed in the Eastern Conference over the Miami Heat whose loss to the Boston Celtics on Tuesday locked them into the No. 2 seed in this weekend's NBA Playoffs.

The team's win last night over the Indiana Pacers assures they will have home-court advantage throughout the playoffs because they own the tie-breaker with the San Antonio Spurs, the team currently holding on to the No. 1 spot in the Western Conference.

And now the NBA has announced that both Rose and the Bulls are tops in merchandise sales this season based on sales on NBAStore.com and at the temporary NBA Store on Fifth Avenue in New York City, according to the League's press release. Sales are calculated from April 2011 to the present.
It's safe to say the Bulls and their fans have had a great week so far.
Of the NBA's 15 most popular jerseys, D. Rose climbed from No. 5 last year to claim the top spot this season for the first time in his career. Rose's ranking also helped the Bulls ascend to the top of the League's 10 most popular team merchandise list, a distinction they haven't held since 2001.
The Top 5 NBA Jersey list is as follows:
1. Derrick Rose - Chicago Bulls
2. Jeremy Lin - New York Knicks
3. Kobe Bryant - Los Angeles Lakers
4. LeBron James - Miami Heat
5. Carmelo Anthony - New York Knicks
The Top 5 Team Merchandise list is as follows:
1. Chicago Bulls
2. New York Knicks
3. Los Angeles Lakers
4. Miami Heat
5. Dallas Mavericks
As the Bulls prepare for their season finale against the visiting Cleveland Cavaliers Thursday night at the United Center, this is yet another honor that Bulls fans can be proud of after a tumultuous season beset by injuries. The team still managed to maintain their status as one of the NBA's elite teams and a legitimate contender to win the NBA Championship come June.
While the team's on-court achievements haven't earned them the same kind of appreciation on a national scale, Derrick Rose having the No. 1 jersey and the Chicago Bulls topping the list in merchandise sales shows they do receive appreciation from basketball fans all over, not just in Chicago. That's certainly something to be proud of.