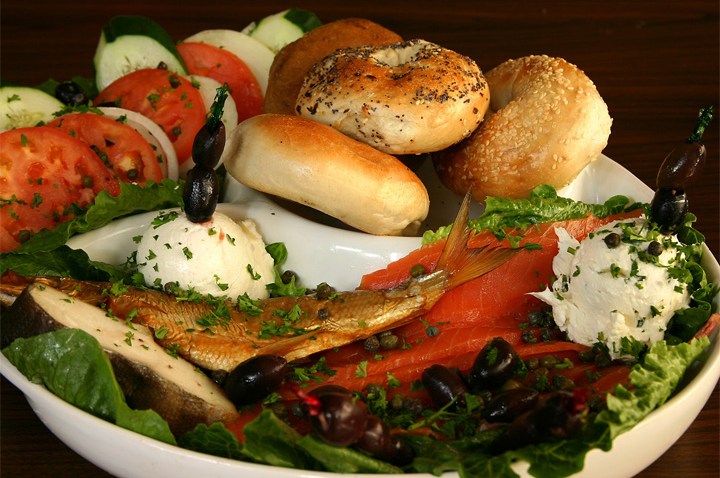 Your day's organized by two simple forces: the El, which determines your traveling, and food, which is delicious and keeps you from dying. Align your wanderings with your chow, with Ari Bendersky's new column, Degus-EL-Station.

Degustation: a culinary term meaning "a careful, appreciative tasting of various foods."

El: that noisy rail jalopy that takes you to other hoods on the cheap.

NEXT STOP: Roosevelt (Red Line)

WHERE TO EAT: Eleven City Diner, 1112 S. Wabash Ave., 312-212-1112

COST: $12 (average per person, not including drinks, tax or tip)

When you're in the mood for a nosh and your mom isn't around to whip you up a corned beef sandwich, head to Eleven City Diner for some great Jewish deli and a little bit of guilt tossed in for good measure.

Owner Brad Rubin opened this spot in the South Loop a few years ago and it hasn't slowed down a bit—not even with all the road work that was going on along Wabash for what seemed like an eternity. Eleven City's deli fare was a welcome addition to the city, and it reminds you of eating with your grandparents (assuming your grandparents might be called Bubbe and Zeyde). The warm, open space is welcoming even if your server may give you a little bit of an attitude. What do you expect? This place pays homage to diners of yore. And in times of yore, you got a little attitude served with your meal.

Everything you could want from a Jewish deli is present: piled-high corned beef or pastrami on soft kaiser or onion rolls with spicy brown mustard; hot chicken soup with massive matzo balls; a chocolate phosphate or an egg cream from the in-house soda jerk; and a lox plate as big as your head.

But it doesn't stop there. The menu offers various smoked fish; a gooey patty melt with plenty of grilled onions; fluffy knishes and crispy latkes. If you opt for the non-traditional dishes, you can dive into a skirt steak, juicy Angus burgers, pastas ... even a grilled tilapia served with a red wine citrus salsa. And breakfast is, of course, served all day. What's the matter, you can't get out of your pajamas?! Good for nuthin' bum.

Ari Bendersky is a food, wine and lifestyle journalist and the creator of SomethingGlorious.com. He also contributes articles locally to Huffington Post, Time Out Chicago, Michigan Avenue, Concierge Preferred, Tasting Table and more. Follow him on Twitter.