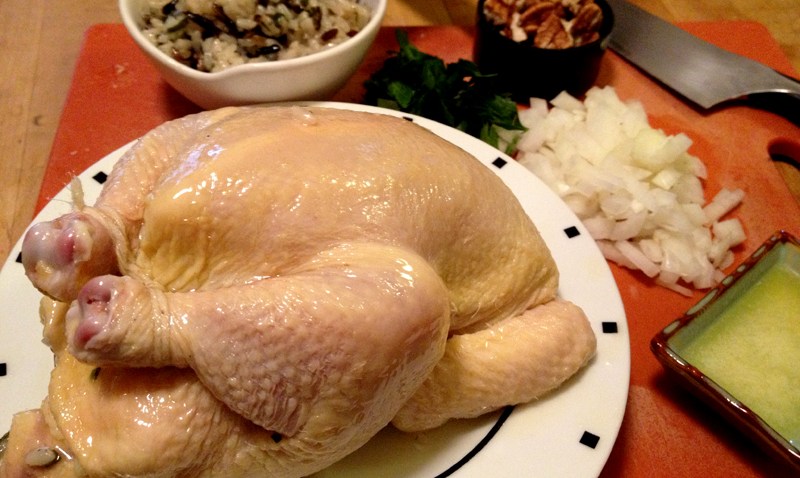 I'm a huge fan of traditions. And, having turkey for Thanksgiving is about as traditional as it gets. But, this year, I thought I would explore other options for the main course and I asked my Facebook friends for suggestions. Martha Schlesselman posted that she has made individual cornish hens with a rice stuffing. I thought this was a great idea, especially If you are planning a smaller dinner for just a few guests. I didn't get Martha's original recipe, but I created one using white and wild rice, sage, rosemary, and pecans that actually came from my parents' trees in Houston. When plated, it makes a stunning presentation that, combined with more traditional side dishes, might just start a flavorful new tradition for your Thanksgiving dinner.

Cornish Hens with Wild Rice and Pecan Stuffing
Idea suggested by Facebook friends M
for 2 Hens

2 tbl Olive Oil
2 tbl Onions, minced
1 clove Garlic, smashed and chopped
1 1/2 tsp Fresh Sage, minced
1 1/2 tsp Fresh Rosemary, minced
1/4 cu White Rice, uncooked
1/4 cu Wild Rice, uncooked
1/2 tsp Black Pepper
1 cu Chicken Stock
1 tbl Parsley, roughly chopped
1/3 cu Chopped Pecans
2 Cornish Hens, about 1 1/2 lbs each
3 tbl Butter, melted

Method

Heat olive oil in a saucepan over medium low heat. Add onions and garlic and sauté until onions are translucent, about 7 minutes. Be sure to keep temperature low so as to not burn the onions or garlic. Add sage, rosemary, white rice, wild rice and pepper and stir to combine with onions. Add chicken stock and bring mixture to a boil. Reduce heat to low. Cover and simmer for 20 minutes. After 20 minutes, remove from heat, add parsley and chopped pecans and allow to cool slightly.

Meanwhile, preheat oven to 400 degrees F. Rinse hens in cold water and then pat dry inside and out with a paper towel. Discard giblets (or use in another recipe if you have one that you like). Tuck the wings behind the hen's back. Fill the cavity of each hen with half of the rice mixture. Fold any excess skin of the chicken over the opening. Tie the legs together with butchers twine.

Place the hens on a rack in a roasting pan. Coat all surfaces with the melted butter. Roast hens in the oven for about an hour or until they are golden brown and the internal temperature of the thickest part of the hen, either thigh or breast, reaches 170 degrees F. Juices should also run clear if you pieces the hen in the thigh or breast. Remove hens from the oven and let them rest for 10 minutes before serving with your favorite side dishes.

I also received a few tips for making your preparations on turkey a bit easier. For pre-preparation, Ida Waterous always peels and cubes her white potatoes the day before and stores them in water to keep them fresh before boiling on Thanksgiving day. Once she prepares her mashed potatoes, she keeps them in a crockpot to keep them warm for serving. With sweet potatoes, Ida says she cooks them the day before and then seals them in a container. She then mashes them and does the final preparation on Thanksgiving day. Great tips, Ida. Thanks!

If you have any comments or questions, please send me an email at wayne@waynesweekend.com or follow me on Facebook or Twitter.