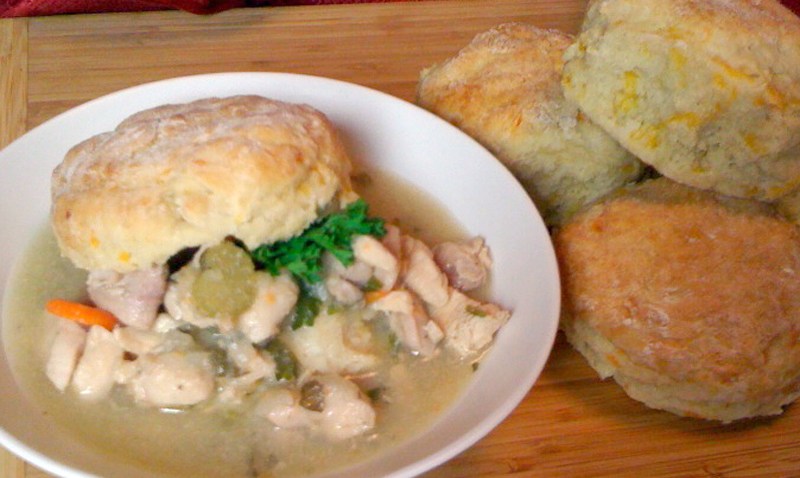 Cold weather is always the best time for comfort food. Hearty soups and casseroles warm us up inside and remind us of the home cooking we enjoyed when we were young. I received a number of comfort food suggestions from my facebook friends, including recipe requests for macaroni & cheese, crock pot dishes, meatloaf, bread pudding and pumpkin bread, just to name a few. Chicken and dumplings was one of the most popular requests. But, at the same time, many folks also asked for lighter versions of some of these favorites.

I decide to create a dish that gives you options. This chicken and biscuit dish starts with a hearty but lighter chicken soup, which can be enjoyed as is. One serving is less than 300 calories. But, for those who aren't as calorie conscious, combining the soup with these cheddar biscuits is my variation on chicken and dumplings. Either way, I'm sure you'll enjoy it!

Hearty Chicken and Biscuits
makes 3 quarts of soup, about 8 servings

Ingredients

1 1/2 lb Red Potatoes, peeled and cut into small cubes
9 cu Fat Free Chicken Broth (or stock)
4 Celery Stalks, sliced
4 lg Carrots, skin on, sliced
1 lg Onion, chopped
2 tbl Olive Oil
1 lb Skinless Boneless Chicken Breasts
1 lb Skinless Boneless Chicken Thighs
1 tsp Salt
1 tsp Fresh Ground Pepper
2 tsp Fresh Thyme, minced
2 tsp Fresh Oregano, minced
2 Bay Leaves
1/4 cu Fresh Parsley, roughly chopped

Method

Put potatoes and 4 cups of chicken broth in a saucepan and bring to a boil. Reduce heat and simmer for 30 minutes until potatoes are tender. Puree mixture in a blender or directly in the pot with an immersion blender. Set aside.

Pour olive oil in a large stockpot of medium heat. Add onions, celery and carrots and sauté until vegetables are tender, about 10 minutes. Meanwhile, cut chicken into 1" pieces and generously season with salt and pepper. Add chicken to stockpot and increase heat to high. Cook, stirring regularly, until chicken is opaque. Add thyme and oregano and stir to combine. Add pureed potato mixture, remaining chicken broth and bay leaves. Bring to a boil and then reduce heat to low. Simmer uncovered for 45 minutes, stirring occasionally. Add parsley and mix through.

As a hearty soup, one serving is 268 calories and 6.5 grams of fat. As a variation on chicken and dumplings, ladle a serving over a large open-faced cheddar biscuit (recipe below) in a bowl. You can use only half the biscuit if you'd like to reduce the total calorie intake.

Cheddar Biscuits
makes about 15 biscuits

Ingredients

1 pkg Active Dry Yeast
1/2 cu Wam Water (about 105 degrees)
4 1/2 - 5 cu All Purpose Flour
2 tsp Baking Powder
1 1/2 tsp Baking Soda
2 tbl Granulated Sugar
1/2 tsp Salt
1 cu Shredded Cheddar Cheese
1/2 cu Vegetable Shortening
1 3/4 cu Buttermilk, room tempeature

Method

Mix yeast with two tablespoons of flour in a medium sized bowl. Slowly add warm water while stirring to combine. Set aside for 15 minutes.

Preheat oven to 400 degrees.

Mix 4 1/4 cups of remaining flour, baking powder, baking soda, sugar and salt in a large bowl. Roughly chop the cheddar cheese to make smaller pieces and add it to the flour. Add shortening and mix with a fork until shortening is distributed. Pour yeast mixture and buttermilk into flour mixture and mix until just combined. Add just enough additional flour so that dough isn't too sticky. Don't work the dough too much. Scrape dough onto a floured surface and flatten out to a 1" thickness. Add additional flour if necessary. Dip a 3" biscuit cutter in flour and make clean vertical cuts into the dough, don't twist the cutter. Place biscuits on a lightly greased baking sheet (or on a baking sheet lined with a baking liner). Biscuits should be just touching each other. Bake for 18-20 minutes or until biscuits are golden brown. These biscuits are 246 calories and 10 grams of fat each.

Thanks for all of the facebook suggestions. I will try to share my take on a number of the comfort food ideas in future segments.

If you have any questions or comments, please send me an email at wayne@waynesweekend.com or follow me on facebook.