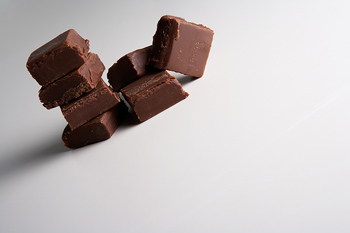 When Valentine's Day is upon us, we tend to surround ourselves with thoughts of chocolate truffles and candy-shaped hearts. But shoveling those in without reserve is going to do no good -- especially if you're logging hours at the gym.
Instead of eating bon bons all day long, indulge yourself with the new dark chocolate facial at
Equinox
, and save yourself the extra pounds.
The special treatment-- available for a limited time in the beginning of February -- will help satisfy your chocolate craving and leave your skin feeling all dewy just in time for your date.
The chocolate facial is rich in antioxidants that combat free radicals that cause premature aging, and the antioxidant-rich cocoa beans and shea butter act as natural moisturizers. The caffeine in chocolate awakens the skin to leave you feeling invigorated and revitalized.
The feel-good benefits of cocoa, plus the sensual have-to-have-it aroma of chocolate, is the perfect combo, and the fact that it's now combined with a day at the spa makes it the ultimate indulgence for yourself, or even better, the ultimate gift for a loved one.
The facial costs $155 and includes a detailed skin condition analysis from a highly trained aesthetician, followed by a deep, relaxing décolletage massage.