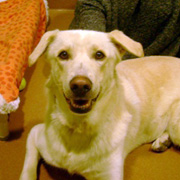 To your non-dog-owning friends, it's hard to explain your passion for your furry friend.
Murphy just gets you. He doesn't judge.
You scold him for barking, tearing up your mail, eating off of the dinner table and more, and he just comes back for more love.
And to reward his unconditional canine devotion, why not take him as your date to the PAWS Chicago Fur Ball?
The seventh annual pet-friendly black tie gala is at 6 p.m. Friday, Nov. 14 at The Drake Hotel (140 E. Walton Place).
Enjoy cocktails, a dinner buffet, raffles, silent and live auctions, and dancing. Murphy will enjoy the same. (OK, maybe not cocktails, but he CAN partake in a doggie buffet, animal communicator and dog spa, complete with an animal masseuse.)
Presented by Bentley Gold Coast, Harry Winston and The Drake Hotel, the ball raises funds to support the PAWS' ongoing efforts to alleviate the city's pet overpopulation problem.
$400 per person/$100 per dog. For more information, contact Christine Witte at 773-890-5118 or cwitte@pawschicago.org.
Copyright FREEL - NBC Local Media