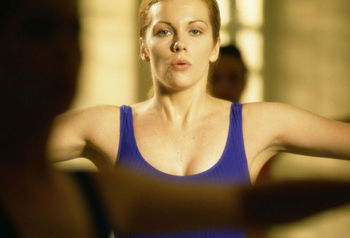 Running on the treadmill is great and all, but sometimes we need to mix it up so we actually stay motivated. Good thing we've got a new option on our hands for burning calories.
Goddess Warrior Fitness Studio is opening its doors inside Pure Vibes Fitness, giving gym rats another outlet for their workout.
But this isn't just any run-of-the-mill fitness regime. Three-time national gymnast champion Veronica Sullivan created Goddess Warrior Studio as a women's sensual fitness and wellness program with a combination of fun group fitness and dance classes as well as stretch and private lessons and on-site pampering.
Ladies will sweat it out in classes like Zen Pole, Exotic Yoga and Vertical Ballet Bar, as well as pole and lap dancing. After torching some calories, they can relax in the on-site pampering retreat featuring all-natural spa treatments, organic spray tans, acupuncture, rain drop therapy and so much more.
The studio will also house health workshops and offer nutritional counseling by Chew Chicago.
Sullivan also decided to add a holistic twist to all Goddess Warrior classes and infuse essential oils during class time, which allows a woman to take a journey while she's in class. Looks like they really thought of everything.
The only problem we foresee with this facility? Once we get there, we may never want to leave.
Kim Peiffer is the founder of The Glow List, an online magazine dedicated to fitness, beauty, healthy eating, spa and travel.