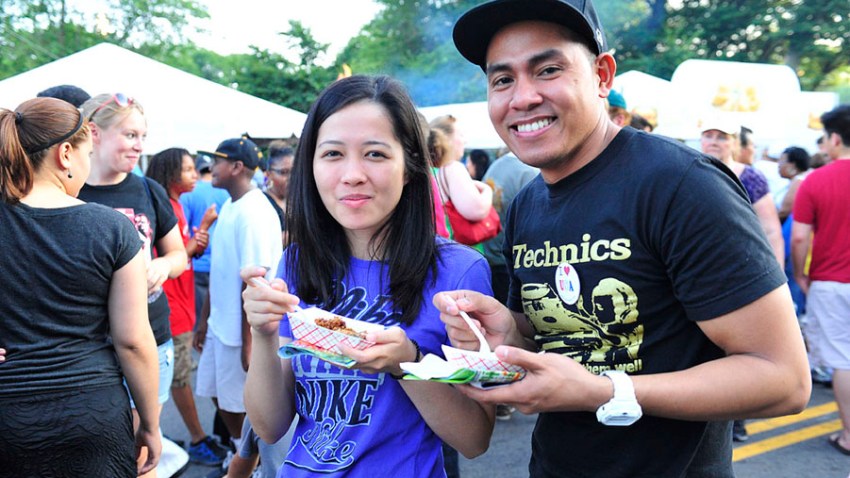 Chicago's waist lines are preparing to expand for 33rd annual Taste of Chicago.

The popular food festival will be held Wednesday through Sunday in Grant Park, the second year the event will operate under a shortened schedule.

Thirty-five restaurants are participating in the food fest this year, along with a new twist -- 14 food trucks, which will be available before and during the evening concerts at the Petrillo Music Shell.

The fest kicks off Wednesday with celebrity chefs Rick Bayless and Ted Allen at the Dominich's Cooking Corner at 2:30 p.m. and 3:30 p.m., respectively.

Full list of restaurants and food trucks

Music headliners include singers Robin Thicke and Jill Scott, Led Zeppelin alumnus Robert Plant, alternative rockers Neon Trees and Grammy award-winning indie pop group fun. Reserved seating for some of the concerts has already sold out, although lawn seating is free. (View Schedule)

Upscale food items will again be available through the Celebrity Chef du Jour, a special ticketed culinary option offered for the second year in a row. As of this writing, tickets still remained for Chef Gale Gand and The Hearty Boys

Strips of 12 food and beverage tickets will be available for $8. Each restaurant will offer signature items as well as "taste" portions costing $2.50 or less.

Mayor Rahm Emanuel had hoped to turn a 2012 profit after a $1 million loss in 2011 by shortening the festival from the traditional 10 days to five and moving it away from the Fourth of July weekend, but festival officials still reported a $1.3 million loss.