What would a team want to face when its defensive structure is a mess, their penalty kill can't be helped, their goalie is pretty much a puddle, and confidence is hard to come by?
Why, the league's hottest team of course!
That's the obstacle the Hawks get Saturday, one night after impressing no one in a nervy, unkempt shootout win over the East's worst team in the Islanders.
Since the Blues told their coach Davis Payne to do one and brought in Ken Hitchcock, who actually makes the team behave and play like adults, the Blues have gone 8-1-3. They also played last night, dropping a shootout in Denver, so perhaps some exercise at altitude will leave the legs a bit sapped.
A lot of the Blues success can be attributed to the other worldly play of goalie Brian Elliot. Leading the league in both save-percentage and goals-against, Elliot has simply been the walls of Troy to break down.
There is a question of just how long this can last, because Elliot has been pretty much "a guy" his whole career. Then again, the great majority of his career came behind a no more than pedestrian Ottawa team, not the tight outfit that Hitchcock tends to deploy. Still, he's in scorched Earth form right now, and it will take something special to beat him repeatedly, as the Hawks defense will signal they'll have to do to win.
But there are other outlying numbers which indicate that the Blues won't be going away into that good night once Elliot's play levels off. They're top in goals-against overall, shots-against, and second in team plus-minus. The last two stats show a team that is committed to defense, before they even worry about the goalie.
And they'll have an emotional boost, as winger David Perron will return after missing over a year with a concussion. Perron has always been a major thorn in the Hawks' side, and will have the building and team charged when he steps back on the ice.
The Hawks always have a hard time with the Blues, because of their furious forechecking that tends to give the Hawks D-men the yips. And they're having a hard enough time not turning over the puck right now without a bunch of angry birds trying to eat their heart for every second of 60 minutes. And that was before the St. Louis defensive game tightened up so remarkably.
There's no word on whether it will be Corey Crawford or Ray Emery in net. Perhaps Coach Joel Quenneville will feel it would be best to build off what was a decent 3rd period and OT for Crawford to up his confidence. But with his shoddy form, throwing him to this machine at the moment could be destructive as well.
You might want to watch this one from behind the couch.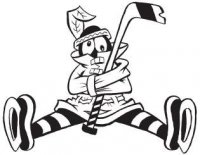 Sam Fels is the proprietor of The Committed Indian, an unofficial program for the Blackhawks. You may have seen him hocking the magazine outside the United Center at Gate 3. The program is also available for purchase online. Fels is a lifelong 'Hawks fan and he also writes for Second City Hockey .
Published at 3:07 PM CST on Dec 3, 2011 | Updated at 4:16 PM CST on Dec 3, 2011