Ebony Unveils "We Are Trayvon" Covers Featuring Spike Lee, Dwyane Wade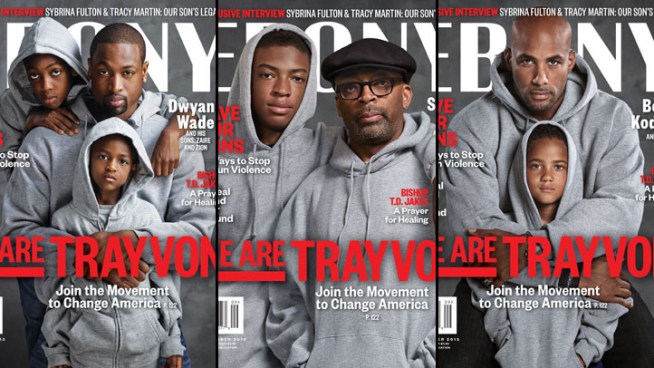 EBONY magazine's September issue pays tribute to Trayvon Martin with cover photos featuring famous African-American men and their sons wearing grey hoodies.
Ebony magazine is paying tribute to Trayvon Martin with four cover photos that feature famous African-American men sporting grey hoodies with their young sons.
The September issue will hit newsstands in the wake of George Zimmerman's trial, which sparked public outrage after a Florida jury acquitted the former neighborhood watchman of second-degree murder and manslaughter in the shooting death of 17-year-old Martin, who was unarmed. Zimmerman argued the shooting was in self-defense during an altercation with Martin.
"To be 17, black and male, specifically, is tantamount to a crime, so said the actions of a certain George Zimmerman, Trayvon's killer," Ebony's editors wrote in a statement. "After an emotional trial in the state of Florida, so too, it seems, said a jury of Zimmerman's peers."
The "We Are Trayvon" covers include one of Martin's family -- Sybrina Fulton, Tracy Martin and their son Jahvaris Fulton. Director Spike Lee poses with his son Jackson, while actor Boris Kodjoe clutches his son Nicolas in another -- all in grey hoodies. NBA star Dwyane Wade and his sons Zaire and Zion round out the four covers.
The editors promise "in-depth coverage on the trial and the aftermath." The issue includes an exclusive interview with Trayvon's parents and a story that explores how Lee, Kodjoe and Wade broach the topic of racism with their sons.
Scroll down to see the four covers: