Chris Brown: "I'm Definitely Remorseful"
Thursday, Nov 12, 2009 | Updated 7:30 PM CDT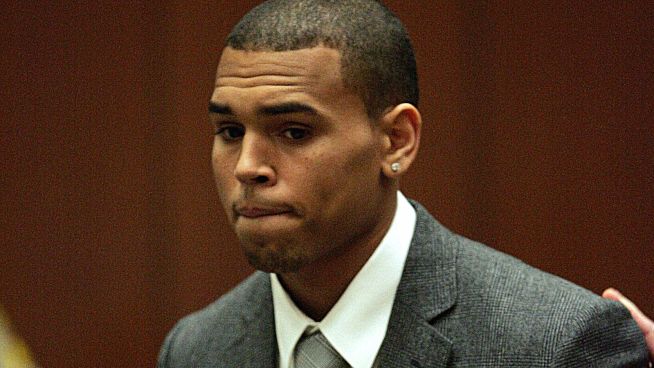 AFP/Getty Images
R&B singer Chris Brown listens to the court proceedings as he is arraigned on assault charges in the Los Angeles Superior Court on March 5, 2009. Brown was charged with assaulting his pop-star girlfriend Rihanna as gruesome details about the alleged attack emerged for the first time. Brown, 19, appeared in court for arraignment on the charges, which came after he allegedly subjected Barbados-born Rihanna to a savage beating in the early hours of February 8. The incident shocked the music world and left Rihanna nursing cuts and bruises to her face, forcing her to cancel a scheduled performance at the Grammy Awards in Los Angeles later February 8. POOL/BOB CHAMBERLAIN (Photo credit should read Bob Chamberlin/AFP/Getty Images)
Chris Brown may have told MTV he wants the details of what happened between he and Rihanna on the night of February 8, to be private, but he doesn't want to brush the episode aside.
In a new interview airing Friday on "The Wendy Williams Show," the host asked the R&B performer what he has to say to those who think he hasn't been acting remorseful.
VIEW THE PHOTOS: Rihanna: Music's Style Superstar
"The steps that I've taken to show that I'm sorry probably have been perceived wrong…Certain things, when I'm doing certain interviews, and how my posture is to how I'm acting," Chris told Wendy in a clip released on Thursday afternoon.
But while he thinks he is being wrongly perceived, Chris insists he feels sorry for his past actions.
"At the end of the day, I'm definitely remorseful and it's not something that I take lightly or think that it's like under the rug," Chris told Wendy. "I really think it's something that is a serious matter and I'm learning from it."
Related Content from AccessHollywood.com:
VIEW THE PHOTOS: Bow Wow & Chris Brown Video Shoot
PLAY IT NOW: AH Nation: Does Rihanna Have The Right To Tell Her Story? (November 10, 2009)
PLAY IT NOW: Rihanna & Chris Brown Speak Out About Attack
MORE ACCESS ON THESE TOPICS: Chris Brown - TV One - Rihanna - Celebrities - TV