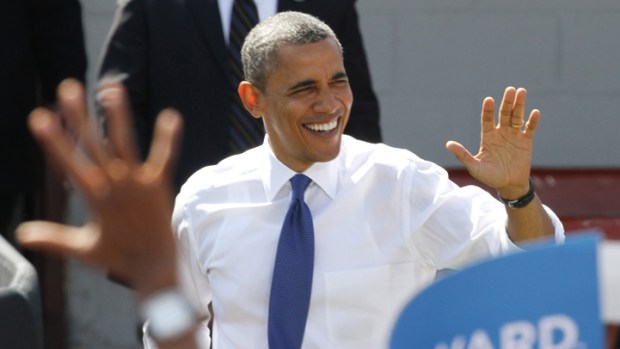 AP
Native son Barack Obama has pushed Illinois to become even bluer.
In 2008, Barack Obama set an Illinois record for the biggest win by a Democrat since the beginning of the current two-party system in 1856. Obama received nearly 62 percent of the vote. That's the second-biggest victory of any candidate, after only Warren G. Harding's 68 percent in 1920. This year, Obama is leading in the polls by a similar margin, meaning he's about to break another Illinois record: most consecutive wins by a Democrat. Going back to Bill Clinton in 1992, Democrats will have won six straight elections in this state.
As you can see from the chart below, for most of its history, Illinois has been a Republican state. Republicans have won 23 presidential elections, to 14 by the Democrats. That changed beginning in the 1990s, and this is now one of the most Democratic states. Only the District of Columbia, Hawaii, Vermont, New York, Rhode Island, Maryland and Delaware delivered bigger percentages for Obama.
1856: James Buchanan-D 44%
1860: Abraham Lincoln-R 61%
1864: Abraham Lincoln-R 54%
1868: Ulysses S. Grant-R 56%
1872: Ulysses S. Grant-R 56%
1876: Rutherford B. Hayes-R 50%
1880: James A. Garfield-R 51%
1884: James G. Blaine-R 52%
1888: Benjamin Harrison-R 49%
1892: Grover Cleveland-D 49%
1896: William McKinley-R 56%
1900: William McKinley-R 53%
1904: Theodore Roosevelt-R 59%
1908: William Howard Taft-R 55%
1912: Woodrow Wilson-D 35%
1916: Charles Evans Hughes-R 53%
1920: Warren G. Harding-R 68%
1924: Calvin Coolidge-R 59%
1928: Herbert Hoover-R 57%
1932: Franklin D. Roosevelt-D 55%
1936: Franklin D. Roosevelt-D 58%
1940: Franklin D. Roosevelt-D 51%
1944: Franklin D. Roosevelt-D 52%
1948: Harry Truman-D 50%
1952: Dwight D. Eisenhower-R 55%
1956: Dwight D. Eisenhower-R 60%
1960: John F. Kennedy-D 50%
1964: Lyndon Johnson-D 59%
1968: Richard Nixon-R 47%
1972: Richard Nixon-R 59%
1976: Gerald Ford-R 50%
1980: Ronald Reagan-R 49%
1984: Ronald Reagan-R 56%
1988: George Bush-R 51%
1992: Bill Clinton-D 49%
1996: Bill Clinton-D 54%
2000: Al Gore-D 55%
2004: John Kerry-D 55%
2008: Barack Obama-D 62%