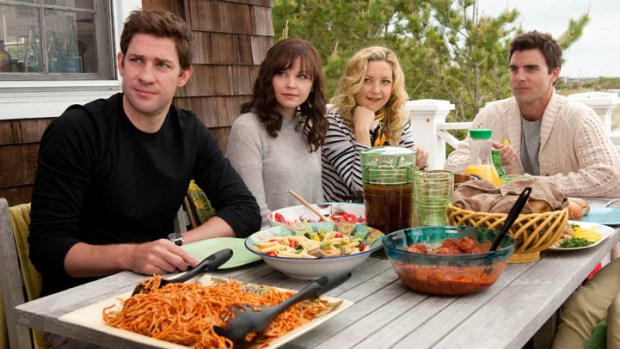 (L-r) JOHN KRASINSKI as Ethan, GINNIFER GOODWIN as Rachel, KATE HUDSON as Darcy and COLIN EGGLESFIELD as Dex in Alcon Entertainment's romantic comedy "SOMETHING BORROWED," a Warner Bros. Pictures release.
We could go on and on about how demeaning this type of thing is to, well, everyone. But Hollywood keeps making them, which means they keep making money, which in turn means you like them.
Since you asked for it, here's the trailer for "Something Borrowed," starring Kate Hudson as a woman who gets engaged to the guy, Colin Egglesfield, that her best friend, Ginnifer Goodwin, has had a crush on since law school. John Krasinski is somehow involved, as Goodwin's old friend "harboring a secret of his own"--In love with Goodwin? Hudson? Gay? You tell us.