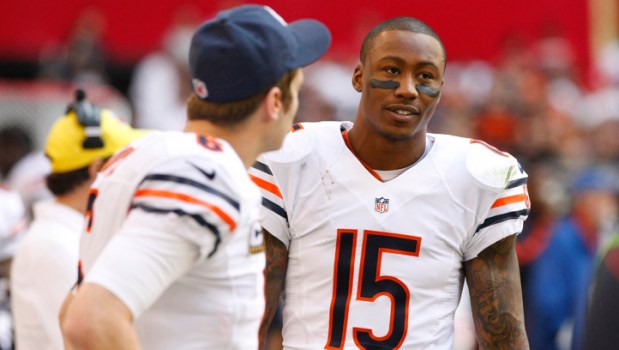 AP
The Minnesota Vikings drafted Florida State cornerback Xavier Rhodes in their second selection of the first round on Thursday, and Chicago Bear Brandon Marshall wasted no time in welcoming his new competitor with some friendly trash talk on Twitter.
Marshall has been itching for the chance to get full press coverage; no one has risen to the challenge, until now. Rhodes is known for playing astounding press coverage. The two will eventually get a chance to go toe to toe. And Marshall can't wait.
After Rhodes tweeted,
"Vikings!!!!!!!! Baby I'm loving it."
Marshall responded with,

"Congrats bro Glory to God. We'll meet soon."
We'll see what type of performance unfolds this season between our very own Marshall and Rhodes. Go get 'em Bears.
The Vikings used the draft to seize who they think will be a key player. Rhodes gives the Vikings a physical press corner. Rhodes stands at 6 feet, 1 inch and weighs 200 pounds.
That's a whole lot of cornerback. He is the number two cornerback in this draft class and the 22nd best overall player.