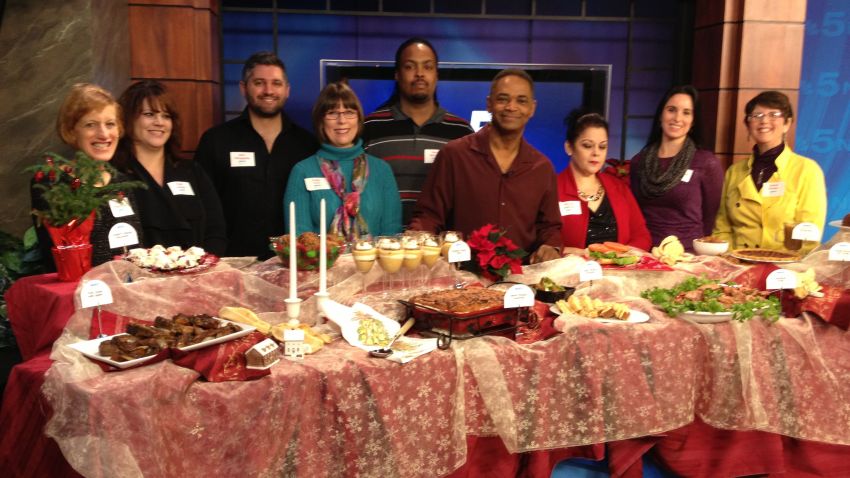 The holidays are always full of good friends and great food. This time of year always brings back memories of favorite dishes that have become traditions for many of us. Since I share my recipes all year long, this year I invited some of my Facebook friends to share some of their holiday favorites. These dishes are either long standing traditions for some or new recipes that have been created for this season. Either way, you'll find a great mix of flavorful edibles that might just become new traditions for some of you. I've listed all my Facebook friends and their recipes here at the top and linked them to their detailed recipe below.

Patti Arnish - Pork Chops with Apples
James Brett & James McLaughlin - Christmas Log
Joey Chiappetta - Pumpkin Ginger Trifles
Kristen Cimmarusti - Pecan Pie
Paula Cree - Sweet Potato Casserole
Karen Pfeifer - Maple Bacon Ice Cream
Diane Prodzenski - Cranberry Almond Macaroon
Miriam Santiago - Roasted Pork
Tony Watson - Apple Whiskey Meatballs

----------

Pork Chops with Apples & Brown Sugar Glaze
courtesy of Patti Arnish, Romeoville, Illinois
"We have our traditional lavish feast on Christmas Day. Christmas Eve I like to create dishes that have all of the home cookin' flavor, but don't require several hours of preparation. This dish is both sweet and savory- it's like having dessert and dinner all at once- without taking too much time away from the festivities."

Ingredients


4 Bone-in Pork Chops Salt
Pepper
Garlic Powder
Olive Oil (to coat pan)
4 Granny Smith Apples, peeled and cut into 1 lg (or 2 med) Vidalia or Sweet Onions
Half stick of butter
1/2 cu of brown sugar
1/2 tsp Cinnamon
1/2 tsp Ground Cloves or Allspice (works with either)

Method

Season pork chops with salt, pepper and garlic powder. Heat oil in pan, add pork chops. Cook over medium heat, turning once until browned. Remove pork chops and place on a platter off to the side. Melt butter in the same pan with the drippings from the pork chops. Sauté the onions and apples in butter until tender. Stir in brown sugar; cook until blended. Return chops to pan. Add cinnamon and ground cloves, stir occasionally, and continue cooking until pork is at done. Mashed potatoes are a great addition to this dish!

----------

Christmas Yule Log
courtesy of James Brett & James Mclaughlin, Itswitch, England
"At Christmas we like to make and serve to friends the Yule log. The cake has a deep history and epitomizes the Christmas festival. It is more an alternative to the rich Christmas Cake. The richness for us comes from the cream and coating of chocolate."

Ingredients

6 lg Eggs
1/2 cu Super Fine Sugar
1/3 cu Coco Powder
2 cu cu Heavy Cream
3/4 cu Drained Black Cherries
8oz Good Quality Chocolate, 50% minimum coco solids
1-2 tbl Cherry Liqueur

Method

Pre heat oven to 350 degrees F. Line a jelly roll pan with baking parchment. Set aside.

Whisk together the eggs until doubled in size. Add the sugar and continute to whisk until it reaches soft peak stage. Fold in Coco powder until combined. Folding ensures the air whisked into eggs is kept in the cake. Once the coco is folded in, spoon the mixture into prepared tin and bake for 15 minutes until set & springy to the touch.

When cooked, turn out onto a damp tea towel covered with parchment on a cooling rack.
Remove parchment paper. Leave to cool.

Whisk up heavy cream with alcohol and fold in cherries. Spread the cream mixture onto the cooled Swiss roll & roll up.

Melt Chocolate over a double boiler, place jelly roll on a wire rack, spoon or pour chocolate over the roll making sure to cover every part, including the ends. A spatula is good to spread the chocolate out over the cake.

Let the excess chocolate run off the cake, leave to set.

Finishing

You can melt a little white chocolate to pipe in lines on the top to look like bark, and the end to look like rings on the log where it has been cut from the tree. Or you can sprinkle gently some confectionary over the log.

Additional ornamentation of your choosing can be added at this stage, like a robin, holly, or anything with a Christmas theme that you think might work to finish off.

(A little side note: When i made this for the segment, I made a whipped chocolate ganache, instead of pouring melted chocolate, and piped it onto the log with a partry bag. To make the ganache, I choppe 12oz of chocolate into a bowl. I brought 8oz of heavy cream to a boil, poured it over the chocolate and stirred until smooth. Then, I refrigerated it, stirring occasionally, until the chocolate was set. I then whipped it in my mixer until it was smooth and fluffy. Using a pastry bag, I piped long ribbons onto the sides and end of the log.)

Pumpkin Ginger Trifles
courtesy of Joey Chiappetta, Chicago, Illinois
"This is a new creation I thought up for this year's thanksgiving. It was a huge hit and I'll be sure to make it again in the years to come!"

Ingredients

Pumpkin Pudding

3 cu Half & Half
1/2 cu Sugar
1/2 tsp Salt
6 lg Egg Yolks
1/4 cu Corn Starch
1/2 Stick Unsalted Butter
15oz can Pumpkin Puree (NOT Pumpkin Pie Mix)
1/2cu Dark Brown Sugar
1 tsp Ground Nutmeg
1 tsp Cinnamon

Method

Place the Half & Half, Sugar and Salt into a medium sauce pan and scald. In a separate, heat-proof bowl whisk together the Egg Yolks and the Corn Starch. Temper the Egg Yolk mixture with the Hot Liquid and return to stove. Over Medium Heat, continuously stir until mixture thickens. Once thickened, remove from heat immediately. Strain through a sieve to remove any lumps. Add Butter and stir to combine.

In a separate bowl, combine Pumpkin Puree, Dark Brown Sugar and Spices together. Combine Pudding mixture and Pumpkin mixture thoroughly. Cover and refrigerate until set (1-2 hours).

Creme Chantilly

Ingredients

2 cu Heavy Whipping Cream
1/4 cu Sugar
1/2 tsp Vanilla

Method

Whisk all ingredients in electric mixer until medium peak.

Assembly

1 box Store-bought Ginger Snap Cookies
12 Wine Glasses
2 Medium Piping Bags (or zip-top bags)

Place Pumpkin Pudding and Creme Chantilly in separate Piping Bags. Layer as follows:

- Pumpkin Pudding (Bottom Layer)
- Ginger Snap Cookie
- Creme Chantilly
- Ginger Snap Cookie
- Pumpkin Pudding
- Ginger Snap Cookie
- Creme Chantilly (Top Layer)

Cover and refrigerate for a minimum of 6 hours. Just before service, garnish with crushed Ginger Snap Cookies for a nice presentation and crunch.


Pecan Pie
courtesy of Kirsten Cimmarusti, Chicago, Illinois
"I inherited this family favorite recipe from a friend and with some some trial and error and a little experimentation I've made it my own."

Ingredients

9 inch Unbaked Pie Crust (or make your own)
1 cu Light Corn Syrup
1 cu Firmly Packed Dark Brown Sugar
3 lg Eggs, slightly beaten
1/3 cu Butter, melted
1/2 tps Salt
1 tsp Vanilla
1 cu Pecan Halves

Method

In a large bowl combine corn syrup, brown sugar, eggs, butter, salt and vanilla, mix well. Pour filling into unbaked prepared pie crust; sprinkle with pecan halves. Bake at 350 for 45 to 50 mins or until center is set (toothpick inserted will come out clean when pie is done).

Electric oven it may be necessary to add 15-20 mins but check toothpick after 45.



Sweet Potato Casserole
courtesy of Paula Cree, Naperville, Illinois
"This Sweet Potato casserole recipe is a long time family favorite that I have been making for years after having it at a dinner party given by my dear friend Sandra Morris from Thomasville, Georgia."

Ingredients
3 lg cans Sweet Potatoes (fresh precooked and mashed sweet potatoes may be used)
1 cu Sugar
1/2 cu Melted Butter
1 tbl vanilla
1 cu Light Brown Sugar
1/3 cu Self Rising Flour
1/3 cu Melted Butter
1 cu Chopped Pecans
2 lg Eggs
1 small can Coconut

Method

Mix sweet potatoes, white sugar, eggs,1/2 cup melted butter, and vanilla together mixing well, then add the coconut. Pour into buttered 9x13 casserole dish.
Mix brown sugar, flour, melted butter (1/3 cup),and nuts together and sprinkle over the sweet potatoes in the casserole dish.
Bake in a 350 degree oven for about 30 minutes...or until bubbly and golden.


Five-Spice Maple Bacon Ice Cream
courtesy of Karen Pfeifer, Mrengo, Illinoios
"I first had this ice cream at a restaurant in Barrington, IL. I thought I could make it. I had three different Thanksgiving dinners this year and everyone at each dinner enjoyed it."

Ingredients

3 cu Heavy Cream
1 cu Whole Milk
1 tsp Asian 5-Spice Powder
2 tsp Vanilla
4 slices Bacon, thick cut
Maple Syrup
Pinch Salt
8 Egg Yolks
3/4 cu Sugar
Cognac, optional

Method

In a large, heavy saucepan, combine the cream, milk, 5-spice powder, optional cognac, and salt over medium heat and simmer for 20 minutes.

In a large bowl, combine the egg yolks, vanilla and sugar. Whisk until pale yellow in color and frothy. Ladle 1/2 cup of the hot cream mixture into the eggs and whisk well to combine. Stir the egg mixture into the hot cream mixture and cook over low heat, stirring constantly to prevent sticking, to 170 degrees or until thick enough to coat the back of a spoon, 3 to 5 minutes. Strain into a large clean bowl through a fine mesh strainer. Cover tightly and place in the refrigerator until well chilled, at least 3 hours or overnight.

Meanwhile, microwave bacon on double layer of paper towels for three minutes. Remove, baste bacon with maple syrup and bake in 350 degree oven until crispy. Cool. Chop and set aside.

Pour the custard into the bowl of an ice cream maker, and freeze according to manufacturer's instructions. Add chopped bacon and additional teaspoon of syrup, if desired, into custard during the last 5 minutes of processing.

Transfer the ice cream to an airtight container and freeze until ready to eat.




Cranberry Almond Macaroons
courtesy of Diane Prodzenski, Naperville, Illinois
"This is a great recipe because its low cal and gluten free
and is very tasty. Great for a cookie exchange or Holiday gathering."

Ingredients

2 Egg Whites
1/4 tsp Almond Extract
Sugar Substitute, equivalent to 2 tablespoons sugar
1 cu Flaked Coconut
1/4 cu Dried Cranberries, chopped
1/4 cu Diamond of California® Almonds, chopped
1/4 cu Semisweet Chocolate Chips, melted

Method

Place egg whites in a small bowl; let stand at room temperature for 30 minutes. Add extract; beat on medium speed until soft peaks form. Gradually beat in sugar substitute on high until stiff glossy peaks form. Fold in the coconut, cranberries and almonds.

Drop by rounded tablespoonfuls 2 in. apart onto a baking sheet coated with cooking spray. Bake at 325° for 10-15 minutes or until set. Cool for 15 minutes before carefully removing from pan to a wire rack.

Spread about 1 teaspoon melted chocolate on the bottom of each cookie. Place on waxed paper with chocolate side up; let stand until set. Yield: 11 cookies.



Pernil Al Horno (Puerto Rican Roast Pork)
courtesy of Miriam Santiago, Chicago, Illinois
"This is the traditional Puerto Rican family and friends gathering dish during the Christmas holiday. Simply Delicioso!"

It's EASY as 1 - 2 - 3. Buy a pork 'shoulder picnic cut, with a nice layer of fat or as we call it, cuero (skin) on top. If you don't find this particular piece then buy any large chunk of pork, it just won't have the cuero.

All it needs is lots of garlic (powder is ok), black pepper, adobo, oregano, and salt, olive oil. Sprinkle the meat and bake. How easy is that?
Note: Season the meat one day ahead and refrigerate (if you are short on time just season and cook).

Ingredients

7 lbs Pork Shoulder, picnic cut (with fat)
9 Garlic Cloves (You may use powder garlic or ground garlic sold in glass jars - 1 tsp. equals one clove.)
½ tsp Black Pepper
1 tbl Adobo Seasoning
1/2 tsp crushed oregano
11/2 tbl Olive Oil
11/2 tsp Salt

Method

Crush the garlic the whole garlic with the side of a wide knife then dice the pieces. In a small bowl mix together the garlic, salt, pepper, adobo, oregano, and olive oil. Mix well.

Wash the meat and pat dry.

With a sharp knife cut the fat away from the meat, leaving an edge attached and keeping it all in one piece. Start at the wide end and go to the narrow end. You don't have to separate it completely - just leave enough still connected so that you can flip the fat over to the side while you season the meat itself. The fat will be placed over the seasoned meat and will cook over the meat giving it more flavor. Season the side of the fat that goes over the meat with a bit of the seasoning also - just that one side by running your hand on it. The other side - the top - should only have salt.

Make very deep slits all over the meat and season the meat making sure that seasoning goes into all the slits. Put the fat back over the meat to look the same as before it was cut and sprinkle it with salt.

Refrigerate the shoulder, covered with plastic wrap, for 24 hours (if you are short on time bake at this time). Let the meat get back into room temperature before cooking, if it was refrigerated. (About one hour). Place the meat in a deep pan with the fat side up. There will be a lot of grease so be sure to use a deep pan that is at least 2" deep. The fat side up will make nice crunchy "cuerito (skin)." Do NOT cover with foil.

Preheat the oven for at least 30 minutes before placing the meat inside. Cook in a 400º oven for one hour, then reduce temperature to 300º for about 4 hours or so - DO NOT TURN MEAT. When the meat is done, you can prick it on the side with a fork to see if it shreds. If the "cuerito is not crispy enough for your satisfaction, then leave it in the oven and raise the temperature again to 400º and cook another 15 or so until it is crispy. It will crisp fast so keep your eye on it.

Remove the meat from the oven and let it rest on the counter for about 20-30 minutes before carving. To carve, remove the cuerito completely and set aside. Carve the meat and then cut the cuerito into pieces and place over the meat. If you're going to take this to a party, put it in an oven-safe container and put it back in a 200º to keep it warm oven, DON'T COVER IT because the crispy cuerito will get soft if you do. Cut the cuerito and serve meat with a piece of cuerito placed on top.

Buen Provecho! (Enjoy!)

Tips:
If using a meat thermometer, it will be ready when it reaches 185ºF.
If the picnic cut is not available just buy a pork shoulder - it won't have the fat and you won't get any cueritos - but it will be delicious.



Apple Whiskey Meatballs
courtesy of Tony Watson

Ingredients

1 med Onions, diced
1 red Bell Pepper, diced
2 lb Ground Turkey
Salt & Pepper, to taste

3 tbl Garlic Powder

2 tsp Cayenne Pepper
2 tsp Crushed Red Pepper

2 tbl Parsley

2 tbl Worcestershire
1 sml Granny Smith Apple, peeled seeded diced
2 lg Eggs

2 cu Italian Seasoned Bread Crumbs

BBQ Glaze
Ingredients
1 cu Regular BBQ Sauce of your choices
1/2 cup Apple Juice
Half pint Whiskey, reduced
1/2 stick butter
Method

Preheat oven to 350 degrees F.

In small lightly oiled skillet, stir your onions, chopped garlic and bell pepper until they sweat. Remove from heat and place in mixing bowl. Combine with remaining ingredients.
Make 1 inch meatballs by rolling them in your palm. Place on baking sheet and bake for for 15 to 18 minutes.
Combine glaze ingredients in a small saucepan and heat to medium hot. Add the meatballs and toss to coat. Server warrm.
Thanks again to all my Facebook friends for sharing their recipes. If you have any comments or questions, please send me an email at wayne@waynesweekend.com or follow me on Facebook or Twitter.