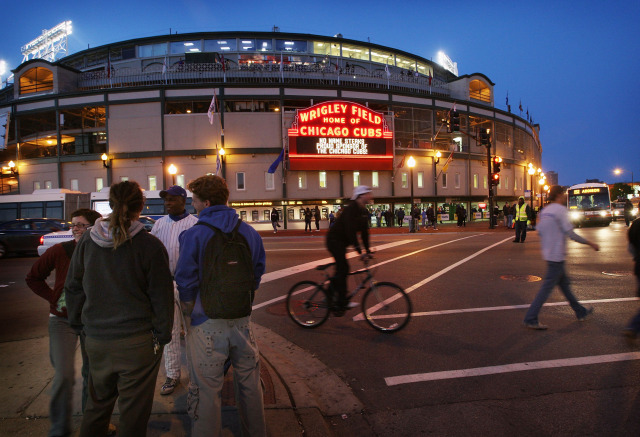 The Cubs are interested in hiring a new CFO or "Vice President of Finance" like it says on the team's Web site.
It's a newly created job that will apparently combine some of the duties of those currently in the Cubs' front office. The responsibilities, according to the posting, include working on the "strategic vision" of the club with Cubs chairman Crane Kenney, as well as overseeing all financial-related ledgers and accounts payable and blah blah blah BOR-ING.

Clearly, that's not all this job requires. These are the Cubs. CFOs don't just do CFO things. Here are a few traits the Cubs, in their haste, forgot to list.
An excellent candidate for this position is willing to:

• Spend an exorbitant amount of money on marginal players
• Sign off on Jim Hendry's decision to spend an exorbitant amount of money on marginal players
• Hide any noticeable gritting of teeth and/or frustrated outbursts when strong scientific and financial data contradicting personnel decisions is presented to leadership
• Despite his/her discomfort, must look the other way when WGN cameramen linger just a half-second too long on a cute pink-hatted girl in the stands that does not at all look 18
• Smile and nod politely when Lou Piniella asks you where the bathroom is ... every day
• Discover dynamic, exciting new ways to raise club revenue while providing the "best experience for our loyal fans*"
• *Possess an understanding that when we say things like this we just mean "raise beer prices"**
• **Oh, and ticket prices. We're going to raise those too. Like, a lot
• Never look Carlos Zambrano directly in the eye

Do you have what it takes? Email your resume and all pertinent experience to cubsjobs@cubs.com. Hey, at least somebody's hiring these days.

Eamonn Brennan is a Chicago-based writer, editor and blogger. He is the editor of Yahoo! Sports's college basketball blog The Dagger and a contributor to Inside The Hall. Follow him at his personal site, eamonnbrennan.com, or on Twitter.
Copyright FREEL - NBC Local Media