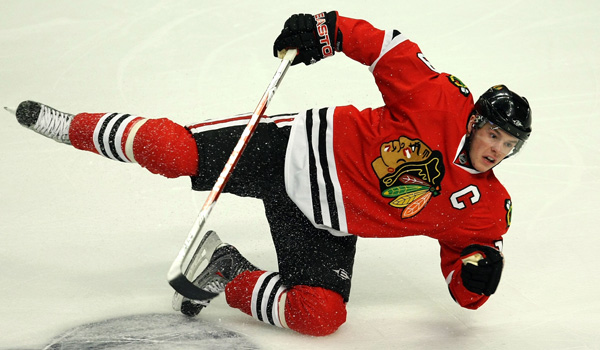 Last night the Hawks faced the Vancouver Canucks in the United Center. It was not a good night for the home team.

Besides playing uninspired hockey and losing 3-2 to the Canucks, the Blackhawks lost their star center Jonathan Toews to an "upper body injury." When you see the video, you'll know why:


Did you see it the first time? Happened pretty fast, huh? Now imagine how Johnny Toews must feel. Upper body injuries, indeed.

Toews suffered those on the hit, which was delivered by Willie Mitchell in the third period Wednesday night. As you can see on the video, Mitchell came out of the penalty box after a Blackhawks power play and blindsided a freeskating Toews at center ice. Toews never saw it coming, and he could barely skate himself off the ice.

Naturally, this led to a reaction from the Blackhawks: Kris Versteeg was penalized for roughing right after the play, a skirmish that ended up robbing Vancouver of a prime 2-on-1 scoring chance. So the fallout wasn't all bad.

But it is bad news for the Hawks; if Toews misses any time, that leaves Chicago without their best faceoff man and arguably their best player. When he does return, you can bet Toews will be keeping his eye on the penalty box every time he skates up the ice. Oof.

Eamonn Brennan is a Chicago-based writer, editor and blogger. You can also read him at Yahoo! Sports, Mouthpiece Sports Blog, and Inside The Hall, or at his personal site, eamonnbrennan.com. Follow him on Twitter.
Copyright FREEL - NBC Local Media