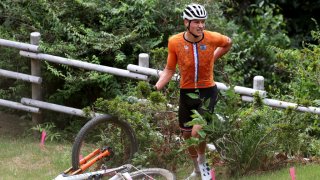 Dutch mountain biker and medal favorite Mathieu van der Poel pulled out of the men's cross country mountain bike race after a hard crash Monday.
During the opening lap of the race, van der Poel appeared to misjudge a drop and went over his handlebars, sending him sprawling to the ground.
While he initially got back up and proceeded on the next few laps, for nearly an hours, he eventually pulled out, in visible pain, dashing hopes of a medal run.
Van der Poel headed to Tokyo as a favorite in the event, having been a stage leader during the Tour de France just a month ago.