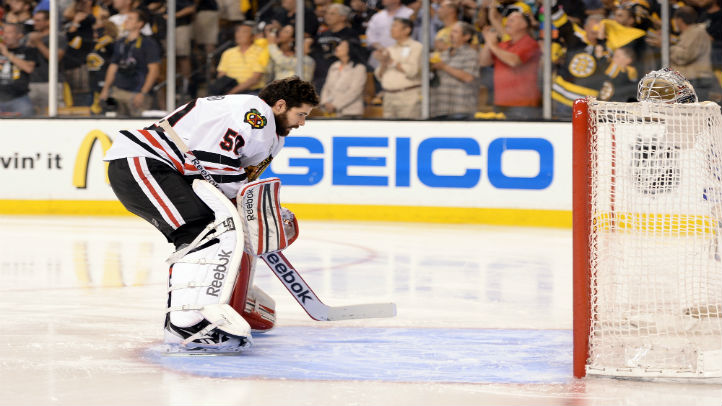 The Chicago Blackhawks avenged their Saturday loss to the Minnesota Wild by putting forth one of their best efforts of the season on Monday night, knocking off the Wild by a 5-1 margin.
Without further adieu, here were our Three Stars:
Third Star: Corey Crawford
The Hawks got off to a good start in the first period in terms of their back-checking and puck possession game, but it was the Wild that were able to get the majority of the shots in the first period. Fortunately for Chicago though, Crawford was more than up to the task, repelling all 10 shots he faced in that frame.
His great play continued for the rest of the game as well, as he fended off several high-quality Wild chances on both the power play and at even strength, and even when the Hawks made some bad defensive miscues, Crawford was usually able to limit the damage.
Just a game after he struggled in a big way against this Wild club, Crawford looked like a completely different goaltender on Monday. His lateral quickness and ability to control rebounds has largely been good this season, and he showed that form again in this one. The Hawks will likely give him the night off Tuesday against the Senators, but who would blame Quenneville if he decided to ride Crawford's hot hand after a performance like this one?
Second Star: Nick Leddy
It hasn't been easy for Leddy to thrive this season as his defensive linemates keep shifting, but he hasn't let it affect his play, and he showed that versatility once again on Monday night.
In addition to winning several puck battles on the defensive side of things, Leddy came up with plays on back-to-back shifts that resulted in goals for the Hawks. His first was an excellent keep-in on a possession by the team's second line. Leddy then pinched in a bit from the point before firing off a shot that Brandon Pirri managed to deflect before it got to Minnesota goaltender Niklas Backstrom. The keeper wasn't able to control the rebound, and it was Patrick Kane's pass to Sheldon Brookbank that set up the easy goal and allowed the Hawks to regain a 2-1 advantage.
Leddy also came up big for the Hawks on a power play in that second period. After Backstrom went to the ground during a scramble that saw Andrew Shaw invading the goal crease, Leddy sensed the confusion happening and aimed a perfect shot that beat Backstrom up high and gave the Hawks a 3-1 lead that they would never surrender.
It was a picture perfect moment from a player that many fans feel should be the team's primary power play quarterback on the blue line, and it was his great play that really keyed the Hawks' second period rally.
First Star: Brandon Saad
After going without a point for three straight games, Saad broke out of his slump in a big way on Monday night, picking up a goal and an assist in a third period barrage that broke the game wide open for Chicago.
Early in the third, Saad snared a pass from Pirri and broke up ice. The Wild, apparently thinking Saad was just going to dump the puck in and go off on a line change, were in for a rude surprise, as the 21-year old forward drove into the zone after a nifty move at the blue line, and went in on a 2-on-1 rush with Kane. When the defender and Backstrom both committed to Saad's side of the ice, the youngster put a perfect back-handed pass right onto Kane's stick blade, and the veteran flipped the puck into the wide open net to give Chicago a 4-1 lead.
Saad struck again just a few minutes later, as he collected the puck near the blue line after two Wild defenders collided in front of the bench. He dished it off to Jonathan Toews, and when no defender marked him, he received a great pass from Duncan Keith and skated unimpeded from the line to the net and beat Backstrom with a nice little deke.
There may have been some folks who questioned Saad's ability to handle full-time top-six minutes this season, but at this point, there can't be many who still do. His confidence with the puck is growing by leaps and bounds every single night, and if he keeps up this kind of effort, then Team USA might look to him to be a secret weapon in the upcoming Sochi Olympics.