Most people might assume that I'm setting my hair on fire after last night's loss to the Canucks in Game 1 of the playoffs.
They are wrong.
Based on the team's play from last night, there was enough to suggest that the Hawks will get slaughtered the rest of the way. But there was also enough there to suggest they'll be very competitive for the length of it and very well may take it. I can't see how anyone's drawing conclusions from what we saw last night.
Why everyone is so shock that the Canucks came out slobbering and having to crush everything in sight is beyond me. This is a team that has to win the Cup this year. It's been their rallying call since September. This is the opening playoff game at home, against their tormenter-in-chief having won five playoff games in a row up there. When they come out with such passion, there isn't a team, not a one, that can deal with it. Why this is the Hawks fault is a mystery.
The other side of that is that you can't play at that pace for a full game, and the Canucks didn't. The middle 20 they were obviously feeling the effects, and a couple bounces here or there and the Hawks would have been right in it. The last 20 was Vancouver just protecting what they had, delighted to just fire the puck out of their zone and get it deep into the Hawks' when that opportunity arose. That said, a couple bounces in the first and the Hawks could have been trounced. So you can go either way with that.
But let's address the ideas that are floating around the Nation today that the Hawks are a bunch of wimps who need eight goons in Game 2. The Hawks are not a physical team. I know it's hard to watch at times, and I don't like it, but that's the way they are constructed. They were built to have speed and skill, with varying results. Who's going to be a physical force? Troy Brouwer tries. Tomas Kopecky isn't strong enough. Bryan Bickell can't get there. Now where? Viktor Stalberg is just adding that to his game. And that's it. The Hawks can't be what they don't have the pieces to be. If you want to rant and wail about it, fine. But at least direct it at the people who put this team together with pieces that couldn't give you what you want.
Reasons to be encouraged:
-Corey Crawford. No chance on the goals, and kept the rest at bay with very few second chances.
-Duncan Keith and Brian Campbell can't possibly be this bad all series.
-Those posts that were hit on a different day go in.
-The Canucks still took some dumb penalties.
Reasons to be discouraged:
-Those penalties don't matter if your power play looks like a train that crashed into a plane that crashed into a truck. The top unit is far too overloaded, and forces Toews to be the net presence which robs him and the team of what he does well, i.e. creating from the goal line extended. Move either Hossa, Kane, or Sharp down to the second unit and have Brouwer on the top one providing the traffic. Thank you.
-Roberto Luongo looked awfully composed. But he has in every Game 1 these teams have played.
-When the Canucks say "go", the Hawks can't keep up. The idea of an upset was always predicated that the Canucks would have to back up some. So we're just going to have to see how often and how long they can repeat that 1st period.
-The Canucks won and the Sedins and Ryan Kesler didn't really do anything.
It's one game, a first step. The Hawks will need Game 2, but there's nothing to suggest they can't get it done.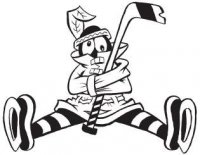 Sam Fels is the proprietor of The Committed Indian, an unofficial program for the Blackhawks. You may have seen him hocking the magazine outside the United Center at Gate 3. The program is also available for purchase online. Fels is a lifelong 'Hawks fan and he also writes for Second City Hockey .