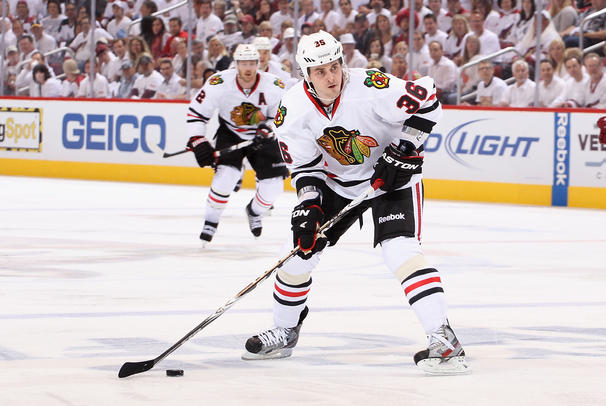 As was reported by Chris Kuc on Monday, and confirmed by his presence in the morning skate today, Chicago Blackhawks center Dave Bolland will return to the lineup on Tuesday night when the Hawks take on the Minnesota Wild at the United Center.
At the skate, Bolland resumed his place between Patrick Sharp and Patrick Kane on the team's second line. With Bolland's return, Marcus Kruger gets bumped back down to the fourth line, where he will center Daniel Carcillo and Brandon Bollig (who is skating in place of Michael Frolik, who will likely miss the game due to illness).
While it fits into the patient line strategy that head coach Joel Quenneville has displayed this season to put Bolland back in the top six, there is reason to argue that Kruger should have stayed up on a line with Kane and Sharp. His performance this season has been nothing short of spectacular, with his penalty killing prowess being a huge reason that this team is currently on a 22 game point streak to begin the year.
He also has as many points as Bolland does despite playing an average of three and a half minutes per game less than Bolland, and often with way less talented partners on the ice. Couple that with the possible rust that could come with Bolland missing six games with what he insisted was not a concussion (although there's reason to be skeptical about that), and those reasons would be enough to at least consider a change at this point.
Perhaps the biggest argument of all in Kruger's favor has to do with how well he played with Sharp and Kane on Sunday.
With a lot of lineup shuffling going on due to Quenneville's decision to dress seven defensemen for the game, the lines that truly stood out were the Shaw-Stalberg-Bickell contingent and the second line with Kruger, Kane, and Sharp. The latter group moved the puck around the zone with near impunity, showed a great deal of speed in contrast to the rest of the team's malaise, and in general looked like a cohesive unit that would've surely scored a goal or two if not for a superhuman effort by Detroit goaltender Jimmy Howard.
That kind of chemistry is hard to ignore, but for Quenneville, he does have a couple of reasons to do so. For starters, there is Kruger's abysmally bad performance in the faceoff circle. In 22 games, Kruger has taken a shade over 200 draws, and has only won 44% of them. Granted, Bolland isn't much better at 44.5%, but it still can't be easy for Quenneville to pull the trigger on a move like that knowing that more than half the time, his line will not be starting a new possession with the puck.
In addition to the face-off concerns, there is the idea of just where exactly you would put Bolland. It's hard to imagine that Quenneville would want to put Bolland on a line with Carcillo and Bollig, but it would be just as foolhardy to break up the aforementioned Stalberg-Shaw-Bickell line. He has never hesitated to shake up lines before, but that only comes when the groupings aren't working. When he hits on one that works, like he did in 2010 with Andrew Ladd, Kris Versteeg, and Bolland, he sticks with it, and moving Bolland down would screw with chemistry in a way that Quenneville probably wouldn't want to do in the middle of a tough stretch of games.
When all is said and done, it would make a lot of sense for Quenneville to put a more offensive-minded center with Sharp and Kane on the second line. When all the variables are considered, however, it is the right move to have Bolland back out there in the top six on Tuesday night, but it would also behoove the Hawks' coach to keep an eye on a potential opportunity for improvement should Bolland show signs of rust or ineffectiveness upon his return.