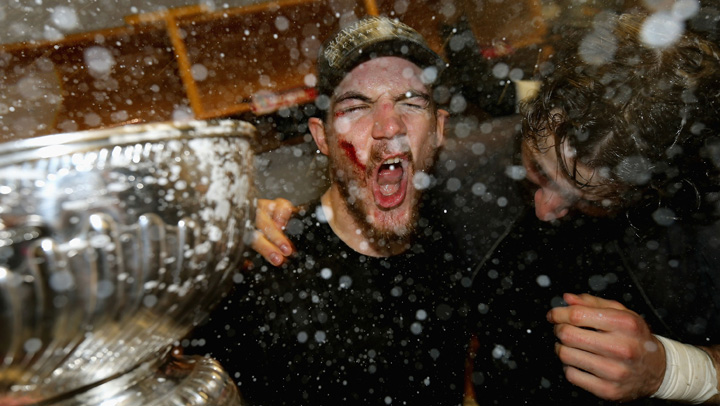 With the NHL salary cap likely going up by a substantial amount next year, the Chicago Blackhawks have been on a bit of a spending spree recently to keep homegrown talent with the club. Both Niklas Hjalmarsson and Corey Crawford got substantial contract extensions with the team, and both have responded well to the deals as they've gotten off to hot starts to the current season.
On Tuesday morning, the Hawks once again opened up their pocketbooks, signing center Andrew Shaw to a new two-year contract extension that will keep him with the Blackhawks through the end of the 2015-16 season. Terms of the deal were not disclosed by the team, but TSN's Bob McKenzie stepped up with the info:
Andrew Shaw's two-year contract extension with CHI has an AAV of $2M. — Bob McKenzie (@TSNBobMcKenzie) November 12, 2013
Shaw has four goals and seven assists for the Hawks in 18 games this season, and has 25 goals and 24 assists during his young NHL career. He also had five goals and four assists during the team's run to the 2013 Stanley Cup title.
"It's great to come to this agreement with Andrew and keep another important member of our team here in Chicago," Blackhawks GM Stan Bowman said in a statement. "Andrew has proven his ability to play a prominent role on our team and we look forward to watching him continue to grow as a player for the Blackhawks."
Shaw's contributions as a third line center over the past two years have really solidified his role on the team. He has shown some great chemistry with winger Bryan Bickell, and his gritty approach to the game has endeared him both to teammates and fans. There are still areas that he needs to work on, including his face-off abilities, but as he increasingly becomes part of the Hawks' power play unit, his value continues to rise.
As for the money, it's certainly a reasonable bridge contract for both the team and for Shaw. His stats are never going to be the gaudiest on the team, but they are more than respectable for a player whose primary responsibilities will be on the defensive side of the puck. It will be interesting to see whether he stays at center with guys like Mark McNeill and others working their way through the system in the near future.