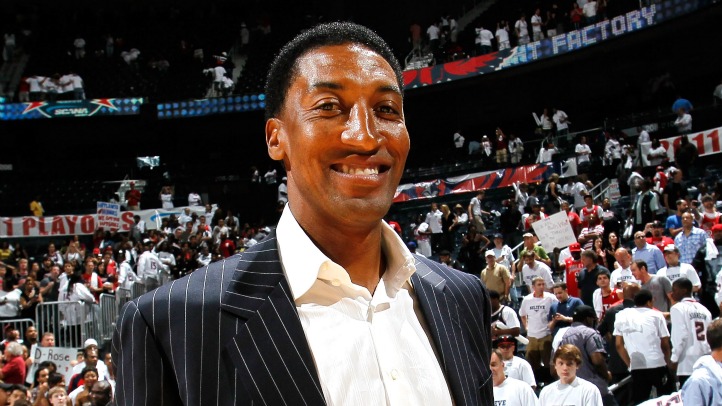 Though we're midway through June and the Chicago Bulls season ended just over a month ago, run into anyone within the organization and it'll be only a matter of time before Derrick Rose becomes a topic of discussion. This was the case on Saturday when a Bulls legend was on hand to help kick off the Nike and Jordan Brand summer league at Whitney Young High School.
After talking about the league and the importance of it to the city, Pippen was asked about Derrick Rose's decision to sit out the Bulls 2012-13 campaign.
"I was kind of surprised people turned on him, knowing the difficulty of Derrick's injury," he told a small gathering of reporters. "No one can justify what he's going through. No one can make his decision as to when to get back on the basketball court. I thought he took a little bit of a hit for it."
"As a player that has played this game, I know at the end of the day I've had numerous amount of surgeries, and the doctors released me at numerous amount of times to go and play. But a lot of those times didn't mean go and play against the best in the world right now, but to get yourself ready to compete again. Sometimes as a player, you're not there yet. The doctor can tell you the headache is gone, but he don't totally know that it is gone unless he can get in your head."
Rose took a major hit in the PR department for his decision and after a while, it seemed as though Bulls fans everywhere had turned on the superstar, despite how much he'd done for the team and the city prior to tearing his ACL last April.
"Fans are demanding. They want to win. They want it now. If you have an injury, they want you back the next day. But it was a process," explained Pippen. "We were all hoping that things would have worked out, but it didn't work out that way. But there's no reason to start to doubt or have any negative activity about Derrick because he was not able to come back this season. I think you just have to look ahead and believe that it was the right decision as a whole, for him, for the organization and we have to move on."
Normal 0 false false false EN-US JA X-NONE /* Style Definitions */ table.MsoNormalTable {mso-style-name:"Table Normal"; mso-tstyle-rowband-size:0; mso-tstyle-colband-size:0; mso-style-noshow:yes; mso-style-priority:99; mso-style-parent:""; mso-padding-alt:0in 5.4pt 0in 5.4pt; mso-para-margin:0in; mso-para-margin-bottom:.0001pt; mso-pagination:widow-orphan; font-size:12.0pt; font-family:Cambria; mso-ascii-font-family:Cambria; mso-ascii-theme-font:minor-latin; mso-hansi-font-family:Cambria; mso-hansi-theme-font:minor-latin;} Follow Outside Shot on Twitter (@Outside_Shot) for more Bulls news and information